We love our noodles. We really, really, really love our noodles. Southern California has gone through a noodle renaissance ten-fold across its melting pot food scene, so the next step logical step is exploring the frontier of ultimate noodle-fusion. And no better time than March, the National Month of Noodles, to find our top picks for noodle dishes reinvented throughout OC and LA. Prepare thine selves.
By now you know all about 4th St. Market (You do, don't you? You do.), so it should come as no surprise that we want you to head straight over to Jinny's. The menu is loaded with all kinds of great pies, slices, and garlic knots, but the reason you're here is the spaghetti & meatball pizza. Perfectly al dente spaghetti + meatballs + basil + parmesan = a highly successful piece of pasta-pizza.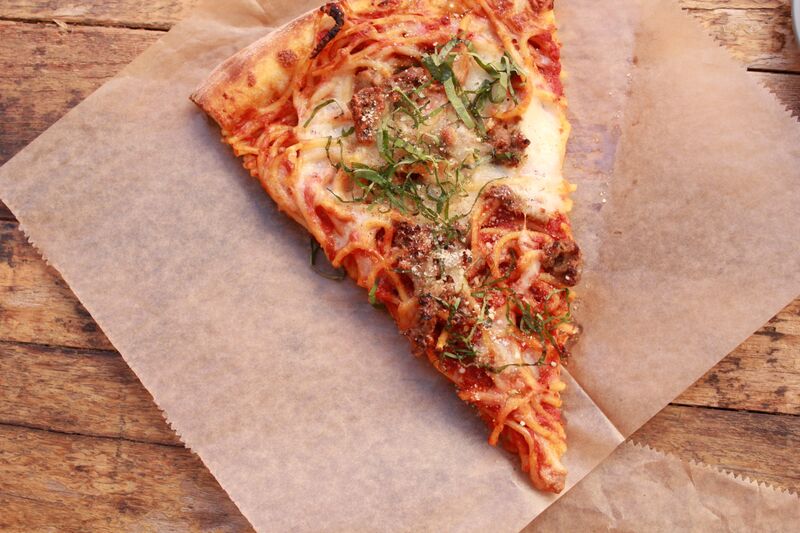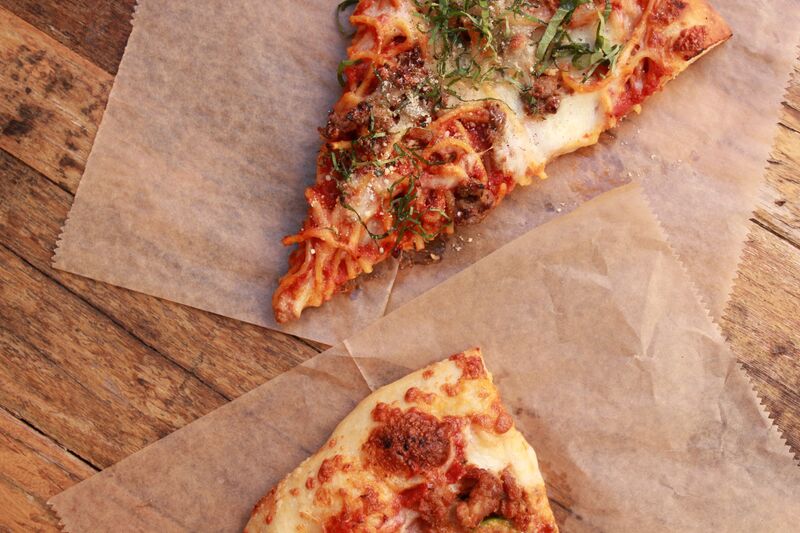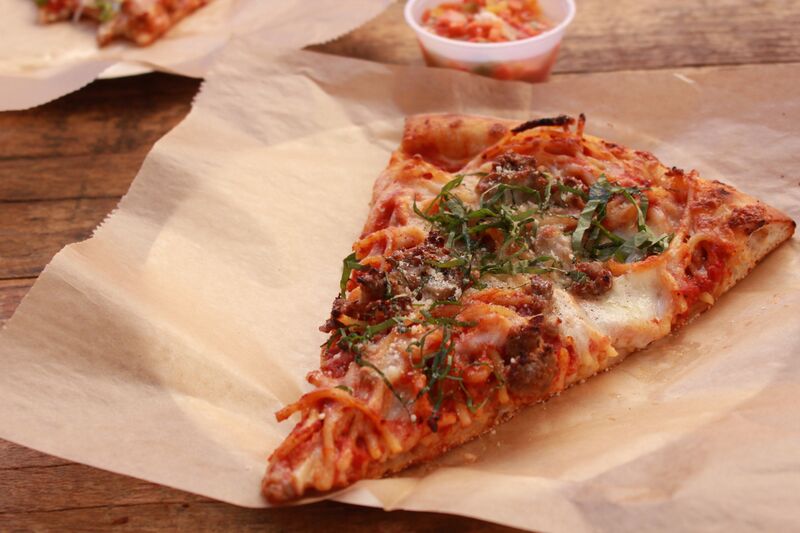 Mac and cheese both just reached a whole new level of American comfort food with the Bacon Mac & Cheese Burger from Pig Pen. Candied bacon, house chuck, and a slice of melted cheddar are sandwiched between none other than two mac and cheese "buns." This noodle beast is not for the weak.
Who knew a stellar pasta dish could come from the likes of a boutique oyster bar? Just don't question the Uni Pasta being whipped up for your daily pasta consumption. Squid ink uni pasta isn't anything new, but where else can you watch your uni being shucked right in front of your face? Enjoy buttered ebony strands decked with freshly shucked uni (delivered fresh daily always) and bask in the carbo-glory.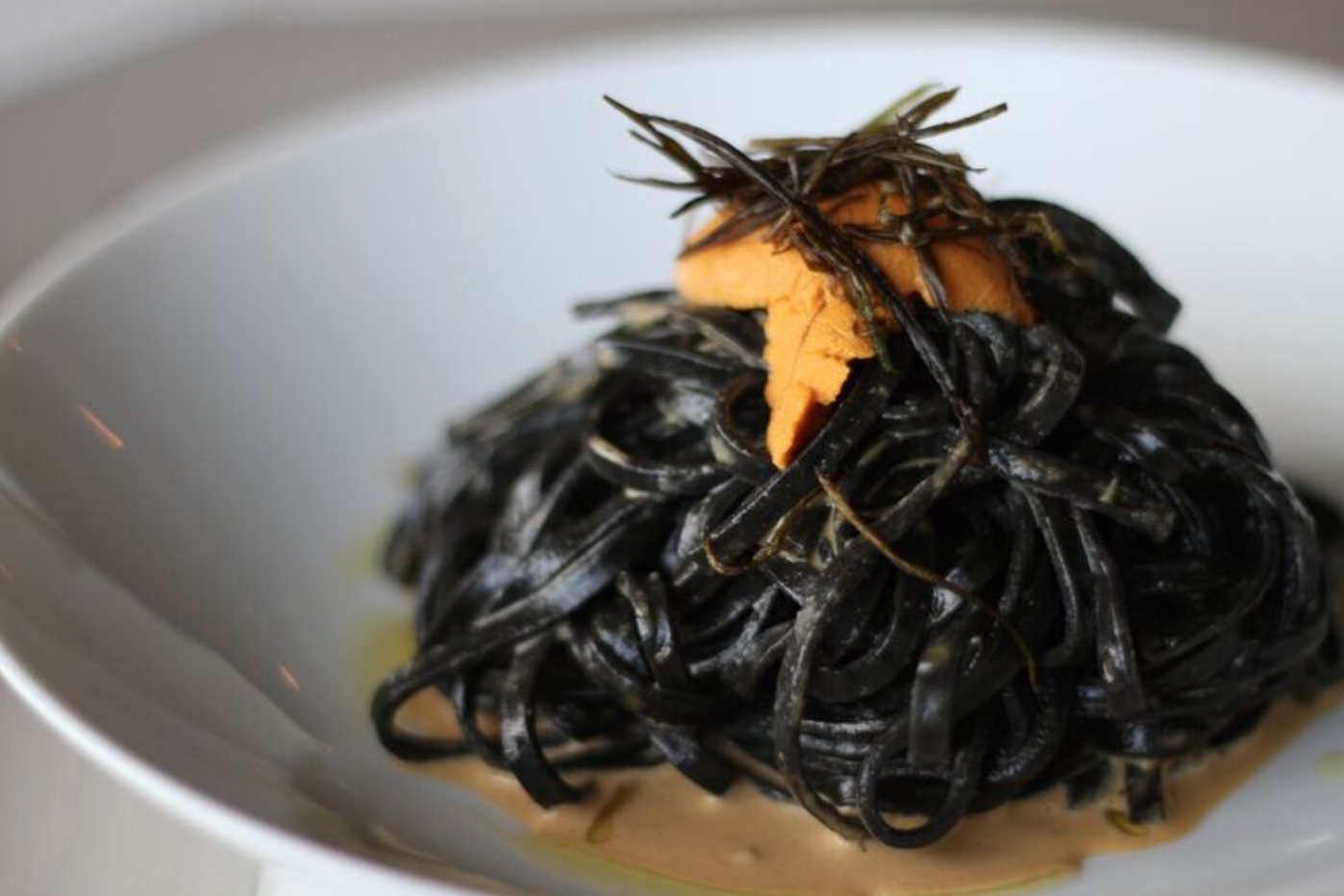 Vaca | Costa Mesa, CA
Top Chef Amar Santana took the tapas scene by storm with Vaca's modern Spanish fare. So to tackle noodles in Spanish food, enter Fidegua, a crunchy noodle paella of with crisp leeks, clams, and garlic chive aioli. Just add a Vaca Tonic to that mix and you're done.
Tatsu Ramen | Fairfax, CA
Ramen Burgers stepped in as some of the OG noodle game changers, but where have the ramen sam'iches gone? Tatsu Ramen still offers their signature Ramen Burger to this day for the one reason that it is one well made piece of meat between precise noodle buns. Crisp house ramen noodles vessel a rich patty of medium rare wagyu beef with shoyu glaze and a soft boiled egg. Looks like the Ramen Burger isn't going anywhere.
Burnt Crumbs | Pacific City & Los Olivos
Sure you could walk into Burnt Crumbs and order one of their many excellent sandwiches (like the Crispy Pork Shoulder, with salsa verde, chili lime mayo, and chicharrones), but what you really want is the Spaghetti Grilled Cheese. Burnt Crumbs will do it up with pressed spaghetti and fresh mozzarella on sourdough, for a cool $9. Why did it take so long for somebody to think of that?
The Carving Board | Tarzana, West LA, & Hollywood
Ramen burgers work very well. We all know this. It only makes sense that The Carving Board decided to go the same route, but with spaghetti. Get over to The Carving Board to try their Spaghetti and Meatballwich for a beautiful monstrosity loaded with sliced all-beef meatballs, mozzarella, and homemade marinara, all between parmesan spaghetti bread (exactly what is sounds like). With even more marinara sauce on the side, of course.
Elbows Mac n' Cheese | Cerritos & Brea
Committed to noodletarians everywhere, Elbows has brought the ultimate gift for the pasta passionate: Mac n Cheese bites. Forego your forks and dig in hands first with a fistful of these insane deep-fried munchies. Macaroni noodles are dressed in the signature four cheese blend, then breaded and fried to crisp perfection. If your mac desires require something more, go ahead and grab a slice of Mac n' Cheese Pizza. Call it a win-win.
Komodo | Venice, CA
For those noodle soup on the go needs, ditch the spoon and get yours hands on Komodo's notorious Phorrito. Ribbons of marinated Angus beef, rice noodles, thai basil, onion, jalapeno, hoisin, and cilantro (don't forget all the pho seasonings) get wrapped in a flour tortilla for this fusion creation. Just call ahead of time. This guy is seasonal and ready to break some noodle lovers' hearts.
Morinoya | Los Angeles, CA
Izakaya houses have become dime-a-dozen in the bustling LA Asian food scene, but Morinoya's got a little hidden gem of authentic Japanese proportions tucked away in their small plates selection: Green Tea Soba. As in matcha green tea + cold soba noodles. Always cooked to perfection and always paired with the appropriate accoutrements of negi and dipping sauce, these chilled noodles seem to hit the spot for true soba aficionados.
This information, including content, photos and links is to be sourced as listed above. Photo content without sourcing is to be credited to 100eats.
For more information or interview requests please contact
Kayla Glass at 100eats - Promotions Coordinator
kayla@100eats.com
831.359.2077