Santa Ana's 4th Street Market is surely becoming another pocket of foodie heaven in Orange County. Their motto is, "where food creators learn and grow, and foodies enjoy the fruits of that labor" – and the inception of that is an exciting, vibrant gathering place. As the market evolves, new restaurants continue to open taking classic favorites and a variety of different cuisines to the next level. Here are a few of 4th Street Market's new additions:
Alta Baja Market
A new market and deli celebrating the flavors of California, Alta Baja Market will carry cheeses, bakery items, beer and wine, gifts and groceries from craft makers across these regions, many unavailable outside of their communities. Created by Natasha Monnereau and Delilah Snell, the market is a love letter to the fare and finds from above and below the border.
The deli will serve unique cheese platters, cured meats from Electric City Butcher, seasonal produce from local farms and specialty sandwiches, tarts and snacks using ingredients sold in the store. The market will also host regular pairing workshops, cooking classes, lectures and monthly pop-up restaurants highlighting local chefs and community members serving traditional foods.
Alta Baja will celebrate their Grand Opening this summer on June 25th and 26th, 2016, with activities available for the Santa Ana and Orange County community. On Saturday, take part in things such as a walking food tour throughout DTSA, as well as a fermenting peppers workshop. On Sunday they'll be hosting a tacos and wine tasting event with a complimentary lunch - $35/person - RSVP through 714.738.225. Don't miss out on the exciting offerings and flavors Alta Baja will bringing to our tastebuds this summer.
Pig Pen Delicacy
Pig Pen Delicacy is a new take on American comfort food, with sophisticated and modern interpretations of bacon and pork favorites. Kevin Nguyen and Mark Cruz began in the food truck business, and then opened two restaurants. Not only are they expanding those, they teamed up with two friends to open a restaurant that is all about the love of bacon. Andy Nguyen is also the co-founder of Afters Ice Cream. He started his business two years ago, and since then, has opened up six other stores. Jason Trinh has been in the food industry for almost 6 years.
Bacon's not only for breakfast anymore – Pig Pen believes it's part of every meal of the day. One of Pig Pen's pork-centric dishes is the maple bacon jam burger –an all-beef patty, Havarti cheese, and crispy onion straws all topped with a maple bacon jam made from bacon cured in house. Their breakfast sandwich features candied bacon, topped with cheddar cheese and banana ketchup. And the pork belly fries are loaded with jack and cheddar cheese, crispy pork belly, a cilantro-lime aioli, and pico de gallo.
Terra
Jon Melendez is self taught in the culinary arts. He studied business at CSULB before dropping out to open his first restaurant in 2014. With no restaurant experience, Jon used his passion for food and experimenting with flavors to create Terra, an all-natural eating concept.
"Eat Good Food" is Terra's motto, with the goal is bring guests nutritious food in a flavorful package. With the restaurant name coming from the Latin word for "goddess of the earth" or sometimes the earth itself, Terra uses all-natural ingredients to create delicious, guilt-free food for all appetites. One of Terra's most popular dishes is the stir-fry bowls, with fresh vegetables and proteins cooked to order over high heat, searing the outside of the vegetables to lock in flavor and preserving nutritious benefits. Terra uses minimal non-GMO oil and gluten- free sauces to spice up their food; in fact, most of their dishes have ingredients you can count on one hand.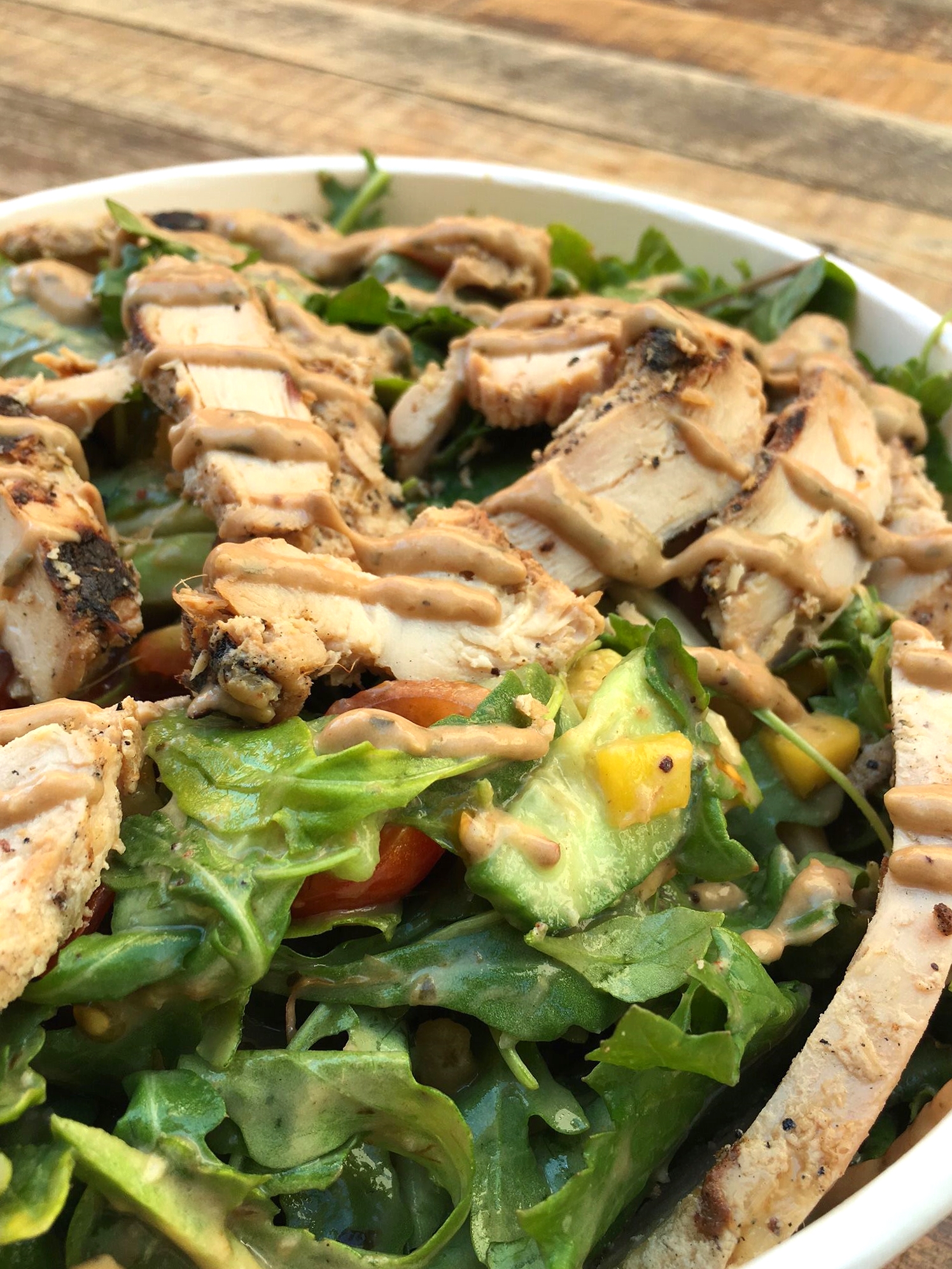 Sit Low Pho
Sit Low Pho is focused on the next evolution of traditional Vietnamese cooking. Where owners Viet Tran and Hop Phan are seeing commercialization of today's Vietnamese cuisine in the U.S., they want to bring back the familiar flavors of Vietnamese food, using simple ingredients with familiar flavors. Featuring the famous Vietnamese noodle soup, and even crafting dishes for a Paleo diet, changing up for spaghetti squash noodles. They're doing new twists too, like asada fries with Vietnamese roast pork belly and chorizo fried rice.
Viet has no formal culinary background, but enjoys cooking and hosting events at home with friends and family. He also owns Dos Chinos and MCM Nightclub. Hop Phan attended UCI, and founded the Dos Chinos food truck in 2010. With no formal culinary education, he competed and placed 2nd on "Chopped" and "Cutthroat Kitchen" The Food Network. He also appeared on two seasons of NBC's "Foodfighters" and A&E's "Man vs. Child."
Jinny's Pizzeria
Co-owners Carol Skaggs and Nathaniel Nguyen have known each other since Nathaniel's childhood. Nathaniel grew up in the Bay Area, and attended Chapman University. After falling in love with the hospitality aspect of food after working in restaurants, he became a food truck chef and then partnered with his old friend and mentor Carol to found a New York pizza concept specifically for the 4th Street Market. Carol is Italian with an accounting/business/financial background, handling business operations.
But who is the restaurant's namesake? Jinny is a friend of Nathaniel's who taught him everything he knows about pizza in New York. Jinny's stories and memories around sharing a slice inspired the name, with Nathaniel and Carol hoping their pizza will get friends and family together to enjoy and build new memories.
Featuring seasonal pizzas with an artisan edge, Jinny's is using authentic ingredients to recreate the classic New York slice of pizza, like Italian-style mozzarella, real Parmesan cheese on all pizzas, and pizza dough perfected by an in-house professional bread baker with Italian doppio zero flour. Italian meatballs are handmade from in-house ground chuck and brisket, and Jinny's also makes in-house ground fennel sausage.
All photos courtesy of team 100eats.
This information, including content, photos and links is to be sourced as listed above via dropbox. These links are for internal use only.
For more information or interview requests please contact
Kayla Glass at 100eats - Promotions Coordinator
kayla@100eats.com
831.359.2077