Friends, weekend warriors, cheap champagne enthusiasts, lend me your ears...and taste buds! Another sunshine-y weekend is upon us and you know what that means...brunch. Yes, brunch is that important that we had to emphasize brunch. We've scoured the Southern California food scene high and low to find that our favorite brunch spots all offer one thing in common that always kicks Sunday-Funday Brunch-All-Day day up a notch: live music. Morning cocktails plus delicious hangover food plus awesome live music equals one thing and one thing only: Disco Brunch. Sounds like good vibes are on the menu.
KTCHN dtsa
Santa Ana, CA
The guys at 4th Street Market's KTCHN dtsa, with the all-inspired knowledge that brunch is always a good idea, embrace the true spirit of brunch with three words: Eggs All Day! We recommend the Pulled Pork & Egg, delicious barbecue pulled pork dressed with a fried egg, fresh arugula, and fried onion, all sandwiched between a homemade flaky baguette. Santa Ana's premier food hall adds the "Disco" to "Disco Brunch" with local musicians who can be enjoyed on the spacious outdoor patio area, complete with human size Connect Four to round out your brunching pleasures.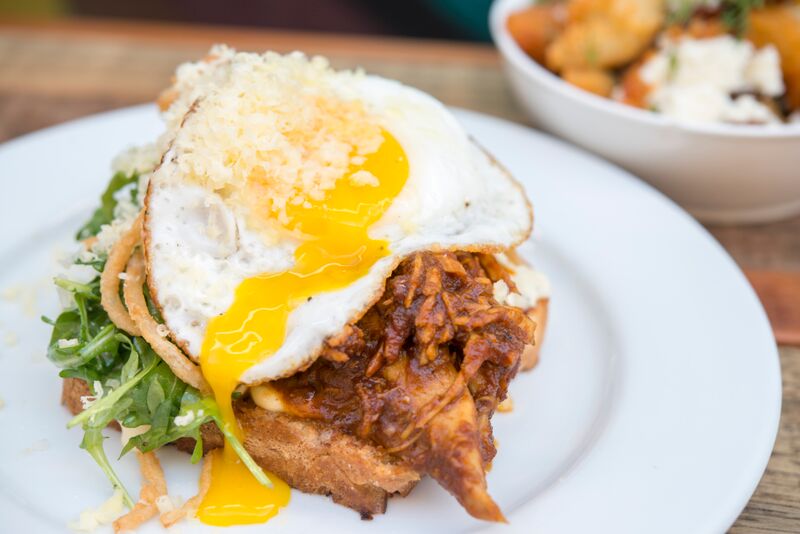 Even Disco Brunch needs a little shaking up every once in awhile. Pandor in OC's beloved Anaheim Packing House takes the cake for offering a unique brunch experience with live music every sunday playing in the open-concept food hall. While the hip-chic Packing House proudly features local musicians for all to enjoy every Sunday among the sea of natural light and hanging air plants, Pandor offers a tasty selection of authentic French pastries, sandwiches, crepes, and Croques both Monsieur and Madame, all not without their roasted Parisian coffees and espressos. Whatever you may choose, just be sure to top yourself off with one of their famous OMG Bars, a flakey, slightly sweet, and from scratch piece of brunch heaven.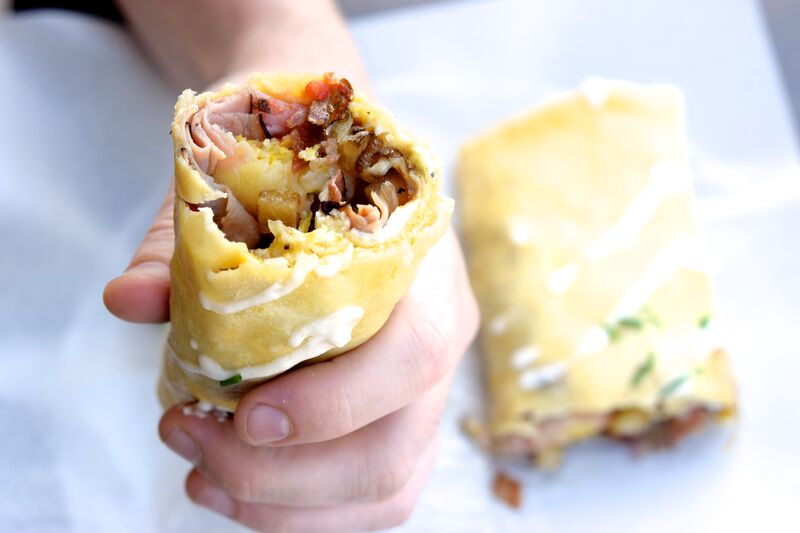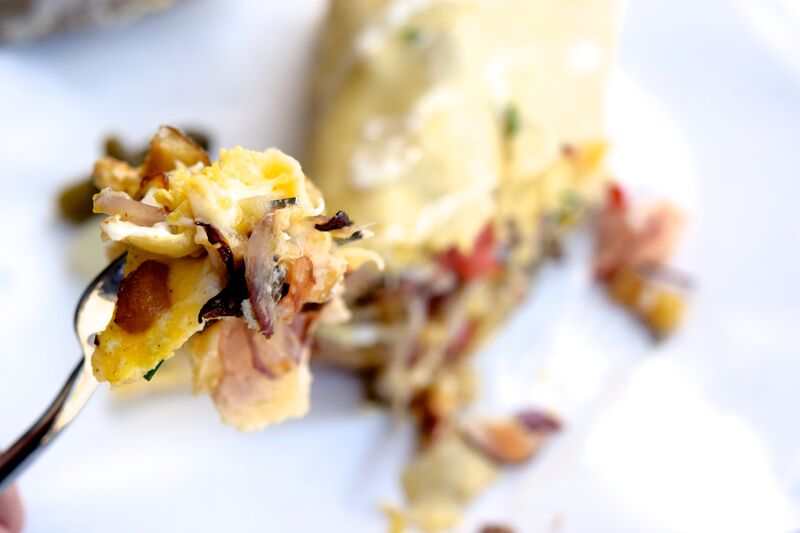 Slice Deli and Cakery
Fountain Valley, CA
Slice Deli might know a thing or two about Disco Brunch, pulling all the stops like an eclectic menu of "meats and sweets," bottomless mimosas, DJ's slinging Motown, need we say more? Oh, let's not forget a pristine white "EAT" sign emblazoned on exposed brick. Brunch provocation at its finest. We like grooving to the throwback tunes with The "Bomb" Mi sandwich in hand, a french roll as the flakey vessel for savory porchetta, ginger soy caramel, those pickled veggies we all love, a dressing of roasted garlic aioli, and cilantro and jalapeno to kick this sandwich marvel into high gear. Even when that bad boy fills you up, do not leave without stopping by the cake case up at the front, if only just to admire the too-beautiful-to-eat artisan treats.
The Little Easy
Los Angeles, CA
Inside 5th Street's historic Alexandria Hotel is this two-room gastropub that oozes southern charm straight out of New Orleans. Equipped with an indoor courtyard with a fountain and porch swing, The Little Easy pulls all the stops with live jazz playing every Sunday afternoon to really set the N'awlins brunchy vibes. Call us cliche, but ask for their massively portioned crispy chicken and waffles or their fantastically powder sugar drenched beignets to kick that hangover to the curb (don't forget the $15 bottomless mimosas with your entree!) So you're saying jazz, fried breakfast food, and never-ending bubbles? Music to our ears.
The Boathouse on the Bay
Long Beach, CA
Take your brunch onto the waterfront at The Boathouse on the Bay for a morning riser cocktail and sensory smorgasbord with ocean views and live steel drum performance all on their sun-soaked patio. When looking at their weekend breakfast menu, our eyes instantly gravitate to $6 bloody mary's and mimosas. One more time...major development: Six $1 bills can send you off into boozy brunch like it's nobody's brunching business! If you're feeling like being a big spender, shell out $18 and opt for an entire bottle of their house bubbles (and you don't even have to share!) Drink away the hangover pains and let the steel drum melodies send you off into calypso Disco Brunch bliss.
Post & Beam
Baldwin Hills, CA
Brunch just isn't brunch without the perfect patio set up to welcome in some vitamin-D to your hybrid meal adventure. Post & Beam tips its hat to mid-century modern design through both name and an aesthetic that reaches its peak of charm with its outdoor seating area. Make your way out to the covered patio and admire live jazz by local artists every Sunday as you look over the eatery's very own vegetable gardens that contribute to their farm-to-table menu. Our top pick? A southern homage of shrimp and grits, accompanied with a pile of eggs, house grits, and a strip of perfectly crisped bacon that adds just the right amount of salt to this non-traditional breakfast dish.
All photos courtesy of 100eats or source cited.
This information, including content, photos and links is to be sourced as listed above via dropbox. These links are for internal use only.
For more information or interview requests please contact
Kayla Glass at 100eats - Promotions Coordinator
kayla@100eats.com
831.359.2077