LOCATED IN IRVINE, CA
www.tradefoodhall.com| facebook.com/TRADEIrvine | instagram.com/tradeirvine
MANAGED BY LINCOLN PROPERTY CO.
VICE PRESIDENT PARKE MILLER
DEFINITION
SHOP. DRINK. DINE. HANG. BE HERE.
ABOUT
A marketplace of visionary restauranteurs and retailers.
An environment where everyone comes together in a community.
A refuge to those seeking the extraordinary.
Escape from the uninspired and join the new standard.
TRADE, Irvine's first food hall will be opening in the Spring of 2017. Accompanied by a number of retail and service shops (such as a men's hair salon and more), TRADE Marketplace will become a go-to destination for SoCal natives and visitors alike. Grab a seat in the open air indoor patio to indulge in some of Orange County's newest eateries, such as Butterleaf and Two Birds (concepts courtesy of Andrew Gruel, Slapfish), and Sweet COMBforts for dessert. Pull up at the Center Hub Bar for happy hour, knock out a few emails or cheers to a friend. Whatever brings you to TRADE, it'll be a wonder if you don't find yourself going back again and again.
More About: Lincoln Property Co. Leasing Manager, Annika Colombi
TRADE'S MULTIPLE TENANTS COLLECTIVELY HOST HUNDREDS OF DELICIOUS MENU ITEMS & MORE
With culinary tenants such as Dos Chinos, and the brand new Butterleaf and Two Birds from the chef behind Slapfish, Andrew Gruel, there's more than enough for everyone to select from. Grab fish tacos from Portside, The Fish Co. for some California fare, or even some fulfilling falafel from Gyro King. For those seeking healthier options, fresh juices from KRISP Fresh Living always hit the spot, and OoToro sushi is just outside serving up some of the freshest fish in town. Don't skip dessert either - Sweet COMBforts has brought traditional belgian-liege waffles to Orange County and it's revolutionary. The variety at TRADE will keep people interested, but the environment will keep them coming back again and again.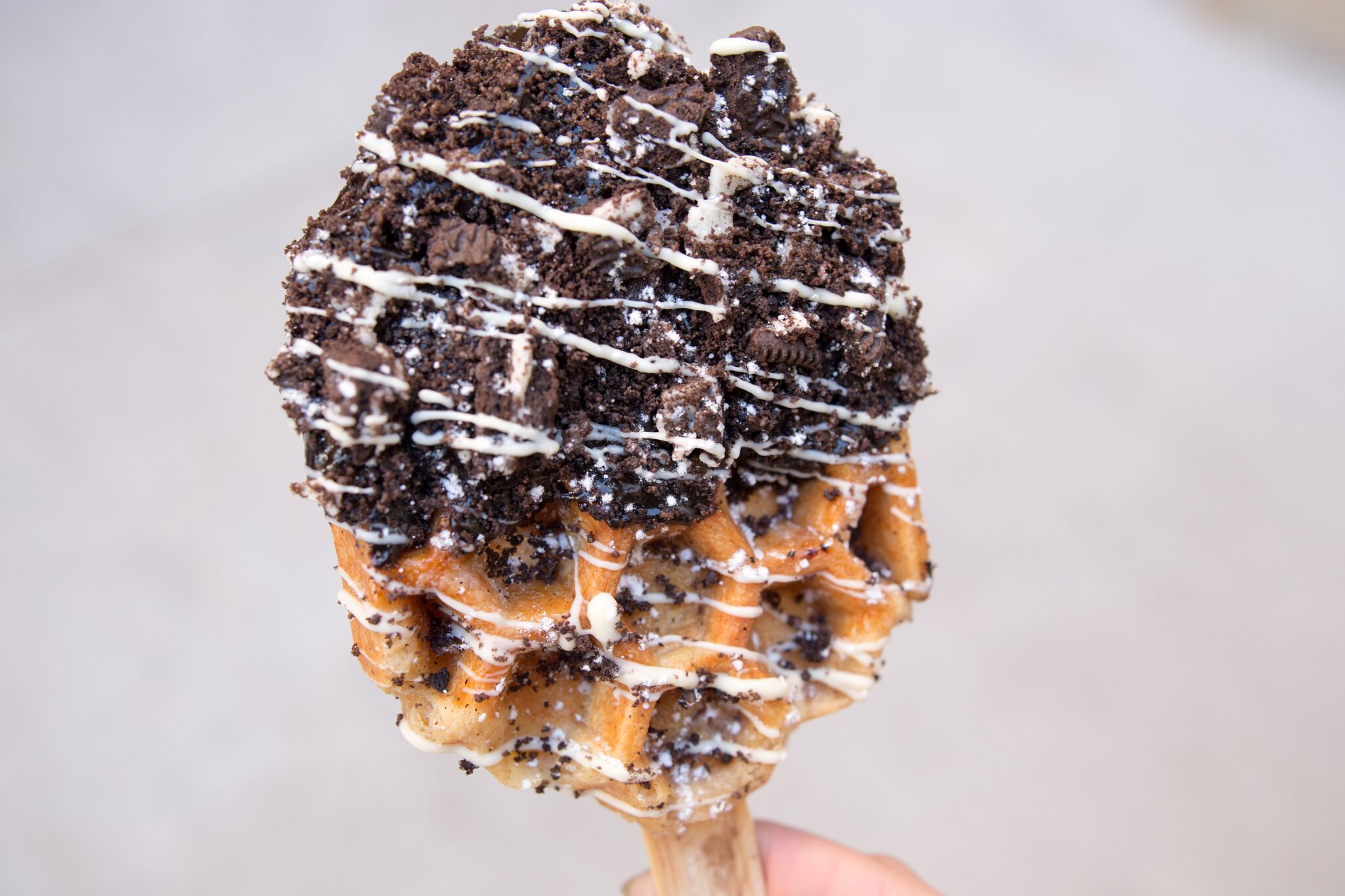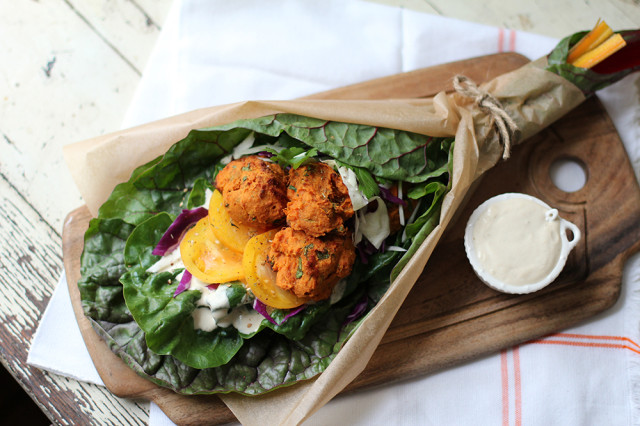 All photos above courtesy of respective tenants on instagram
POPULAR EATS & GOODS
BUTTERLEAF
Signature Butterleaf Burger: sweet potato, kale, melted onions, kimchi sauce
Scratch-Made Veggie Burger: black beans, veggies, grains, melted cheese
THE CENTER HUB BAR
The Stubborn Mule: Hangar One Vodka, Muddled Cucumbers and Mint Leaves, Lime Juice, Blueberry Syrup, Ginger Beer
Ginger Snap: Chivas Regal 12yr Old Scotch Whiskey, Lemon Juice, Ginger-Honey Syrup, Spritz of Laproaig 10 yr Scotch
DOS CHINOS
Chorizo Fried Rice: chorizo, chinese sausage, chimichurri, pineapple
Stoner Papas: shoestring french fries, DC asada, bolsa roast pork belly, chorizo fried rice, sunny side up fried egg, DC salsa verde, onions, cilantro
GROUND HOUSE
Basic Burger: 1/4 lb angus beef patty, American cheese, lettuce, tomato, 1000 island spread, served on potato bun (available in single, double or triple)
Ono Burger: 1/4 lb angus beef patty, white American cheese, teriyaki glazed pineapple, sriracha teriyaki sauce, served on potato bun
GYRO KING
Gyro: served with gyro meat, lettuce, tomatoes, onions and tzatziki sauce
Swordfish Kabob: served with two swordfish kabobs with vegetables
HIRO NORI
Tonkotsu Ramen: rich pork and chicken broth, green onion, bean sprouts, seaweed, spinach, with choice of pork chashu, chicken chashu, or tofu
Tonkotsu Spicy Ramen: rich pork and chicken broth with house made spicy sauce, green onion, bean sprouts, seaweed, spinach, with choice of pork chashu, chicken chashu, or tofu
KEMPT Men's Hair
Men's Haircut: includes shampoo, scalp massage, and rinse
In Between Detailing: clean up sideburns, neck, and around ears in between haircuts
KRISP FRESH LIVING
Juices: a variety of fresh organic juices are offered by KRISP including Pure Greens, Island Greens, Super Mood, Citrus Medley, Pure Pineapple, Pure Carrot, and more.
Nut Milks: Vanilla Cashew, Matcha Almond Milk, Blueberry Matcha Almond Milk, Cold Brew Espresso Almond Milk
MEGADON
Fresh Poke Bowls: choice of fresh marinated fish, hawaiian flavors served over Japanese rice and/or mixed vegetables
Spicy Ahi Tuna: crispy tuna, edamame, served on top of Japanese rice
OC WAXING
Ladies: Classic Bikini, Full Leg Wax
Gents: Chest, Full Back Wax
OOTORO SUSHI
Chirashi: Tuna, Salmon, and Yellowtail on Sushi Rice Bowl
Salmon Ikura Bowl: Salmon Sashimi and Egg Roe over Sushi Rice
PORTSIDE
San Pedro Platter: the ultimate platter featuring a whole lobster, prawns, and more
Mac n Chowder: mac and cheese and clam chowder come together in harmony
TWO BIRDS
Bird In The Hand: Sandwich - cornmeal bun, pickle slaw, tiger sauce
Bird In The Bush: Salad, salt and vinegar slaw, tomato, pickle, romaine lettuce, pickled onion, and cucumber
SWEET COMBFORTS
Belgian Waffle Pops: pick your waffle and your toppings!
Cookie Monster: a vibrant blue cookies n cream milkshake topped with whipped cream and cookies
LOCATION
2222 Michelson Dr.
Irvine, CA 92612
Info@TradeFoodHall.com
HOURS OF OPERATION
Monday - Thursday, 8 a.m. - 9 p.m.
Friday - Sunday, 8 a.m. - 10 p.m.
ADDITIONAL INFORMATION
Parking: Outdoor Lot, Ample
Seating: Indoor & Outdoor Food Hall Seating Available
Service: Counter & Bar
Square Footage & Capacity: TBD
Directions via: Google Maps
SAMPLE COVERAGE
OC REGISTER
OC Register highlights TRADE in a massive food hall feature
OC WEEKLY
OC Weekly highlights TRADE's soft opening phase
SOCAL RESTAURANT SHOW
SoCal Restaurant Show highlights TRADE's opening phase
additional sample coverage ...coming soon!
For more information or interview requests please contact
Bobby Navarro at 100inc Agency - Events and Promotions.