ABOUT
Once upon a time, four men had dreams of putting fresh seafood sandwiches in the hands of everyone that would normally reach for a burger. After testing and fine tuning the menu for a year, the creations were released to the public on Halloween 2012. Once a farmers market stand found it's brick and mortar in San Diego, CA. Now Supernatural has graced Downtown Santa Ana with their out-of-this-world creations. Grab some of their superb seafood creations at the popular food hall 4th St Market, and bring the whole crew to dig in.
More About: Owner Tony Nguyen
MENU
Scratch-made seafood sandwiches, decadent fresh-cut fries and more. Supernatural Sandwiches focuses on using fresh, responsibly harvested and sustainable seafood, and local bread that is baked daily. House made sauces and other organic ingredients elevate their authentic Lobster Roll, Garlic Shrimp sandwich and more. The Supernatural menu puts focus on the details, because it's all the little things that add up to a SuperNatural experience.
OUT OF THIS WORLD SANDWICHES & MORE
SANDWICHES
NEPTUNE: Diver Bay Scallops and Bacon
SIREN: Spicy Garlic Shrimp
ENCANTADO: crispy battered cod with chipotle aioli and jicama slaw
APHRODITE: Shrimp and Bacon Grilled Cheese
CHIMERA: Korean Steak and Shrimp Melt with Kimchi
NAHUELITO: 5oz Wild Pink Patagonia Shrimp cooked in Umami butter in a toasted Brioche bun
TRITON FRIES: Patagonia Shrimp, Crispy Garlic Shrimp, Scallops, Avocado Ponzu, Cheese Sauce, Scallions
SIDES: Side Salad, Scallop Bacon Chowder, Garlic Fries, Togarashi Shrimp Chips, Vulcan Grilled Cheese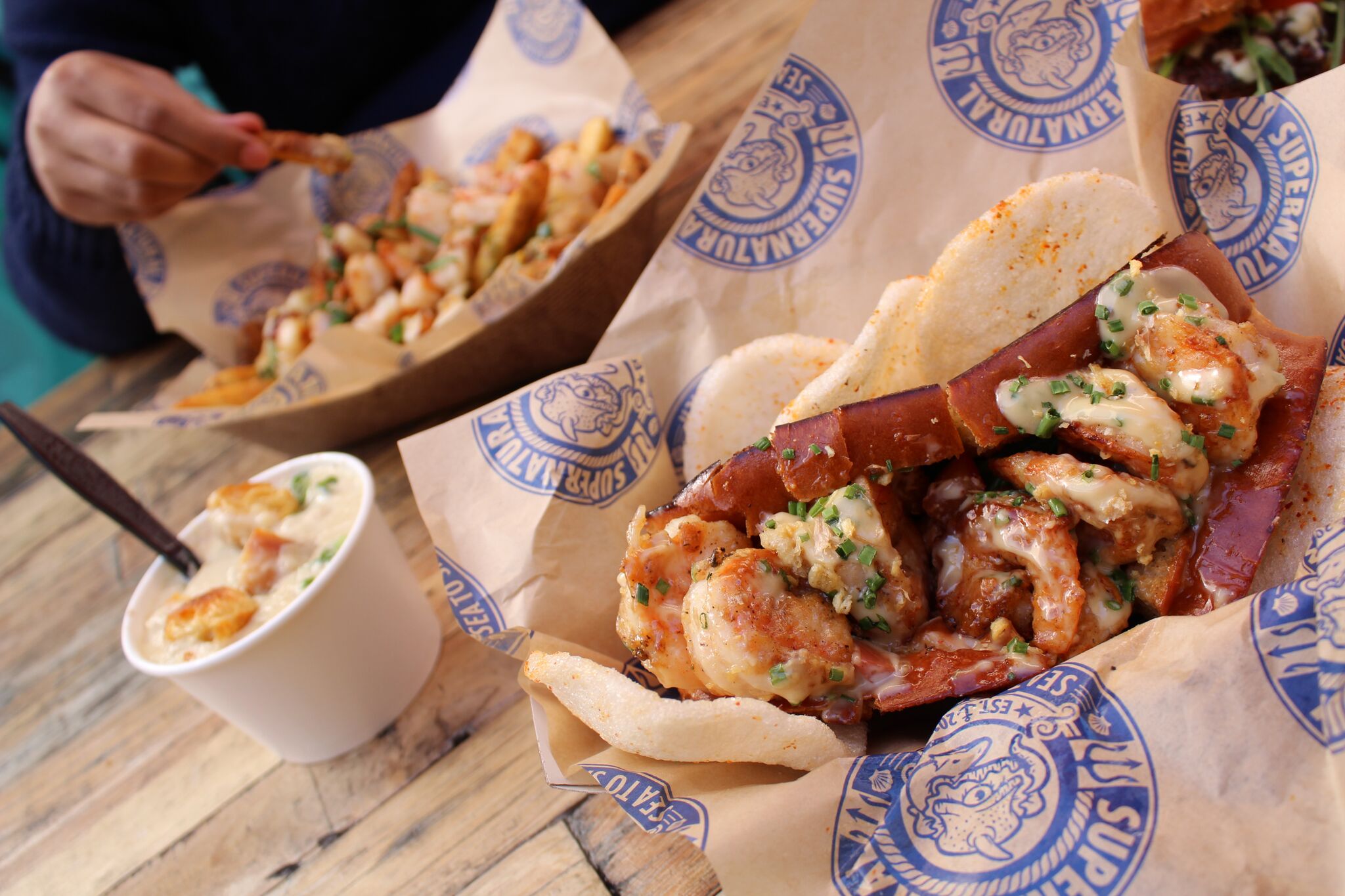 All photos above courtesy of 100eats
ADDITIONAL INFORMATION
LOCATION
4TH STREET MARKET
201 E. 4th Street, #129
Santa Ana, CA 92701
Driving Directions via: Google Maps
Hours of Operation: Lunch & Dinner, Daily
Sunday - Wednesday, 11:00 a.m. - 9:00 p.m.
Thursday - Saturday, 11:00 a.m. - 10:00 p.m.
Square Footage & Capacity: TBD
Menu Pricing: $
Seating: Indoor Food Hall & Outdoor Patio Seating
Service: Counter
SAMPLE COVERAGE
...coming soon!
For more information or interview requests please contact
Bobby Navarro at 100inc Agency - Events and Promotions.