ABOUT
EAT. DRINK. PLAY!
Located in Fountain Valley, The Recess Room is bringing something a little different to the Orange County restaurant scene. Five lifelong friends met during recess one day on a Fountain Valley Playground, and they've shared a deep love of their hometown ever since.
"They dreamed of one day opening a restaurant together where they could share good food, good drinks and reminisce about good times...
The Recess Room is their childhood dream come to life."
Co-Owner Viet Pham and his four friends are currently living their dream, all the while supplying Orange County locals with an ideal spot to wine and dine, and just enjoy each other's company. Aside from the ambiance, their executive Chef Sam Green is serving up some impressive food and drink to go along with it. Their menu is bold and rich, touting items line Bone Marrow Mac & Cheese and a Pork Belly BLT. Homegrown ingredients and the passion of their team go into every dish and cocktail, making The Recess Room experience, a memorable one.
More About: Co-Owner Viet Pham
More About: Chef Sam Green
MENU
The Recess Room offers a menu filled with modern-American tapas and starters, as well as incredibly flavorful entrees boasting well-prepared proteins. Chef Sam Green utilizes home grown ingredients from the onsite garden, making his plates stand out in the freshest way possible. Come in and share a few starters like the Blue Crab Beignets and Charcuterie, or go big with dishes like their Bone Marrow Burger and Crab Pasta. Not to mention their 24 craft beers on tap (primarily sourced from local Orange County breweries), a great wine selection, a variety of premium whiskeys, and their impressive list of handcrafted cocktails.
SPECIALTY COCKTAILS
Smoke & Mirrors: butter infused lot 40 whiskey, maple syrup, angostura, pecan bitters, served with big rock in a smoked old fashioned glass
Blackberry Bramble: plymouth gin, lemon, muddled blackberries, sugar, served in double old fashioned glass
Cupid's Arrow: strawberry infused reposado, pear brandy, beet root powder, honey, lemon, served in nick and nora glass
Gin-Singh's Vesper: ketel one, notlet's gin, ginseng infused lillet blanc, orange bitters, served in nick and nora
Barrel Aged Vieux Carre: bulleit rye, hennessy sweet vermouth, benedictine, peychaud's and angostura bitters, served with big rock in old fashioned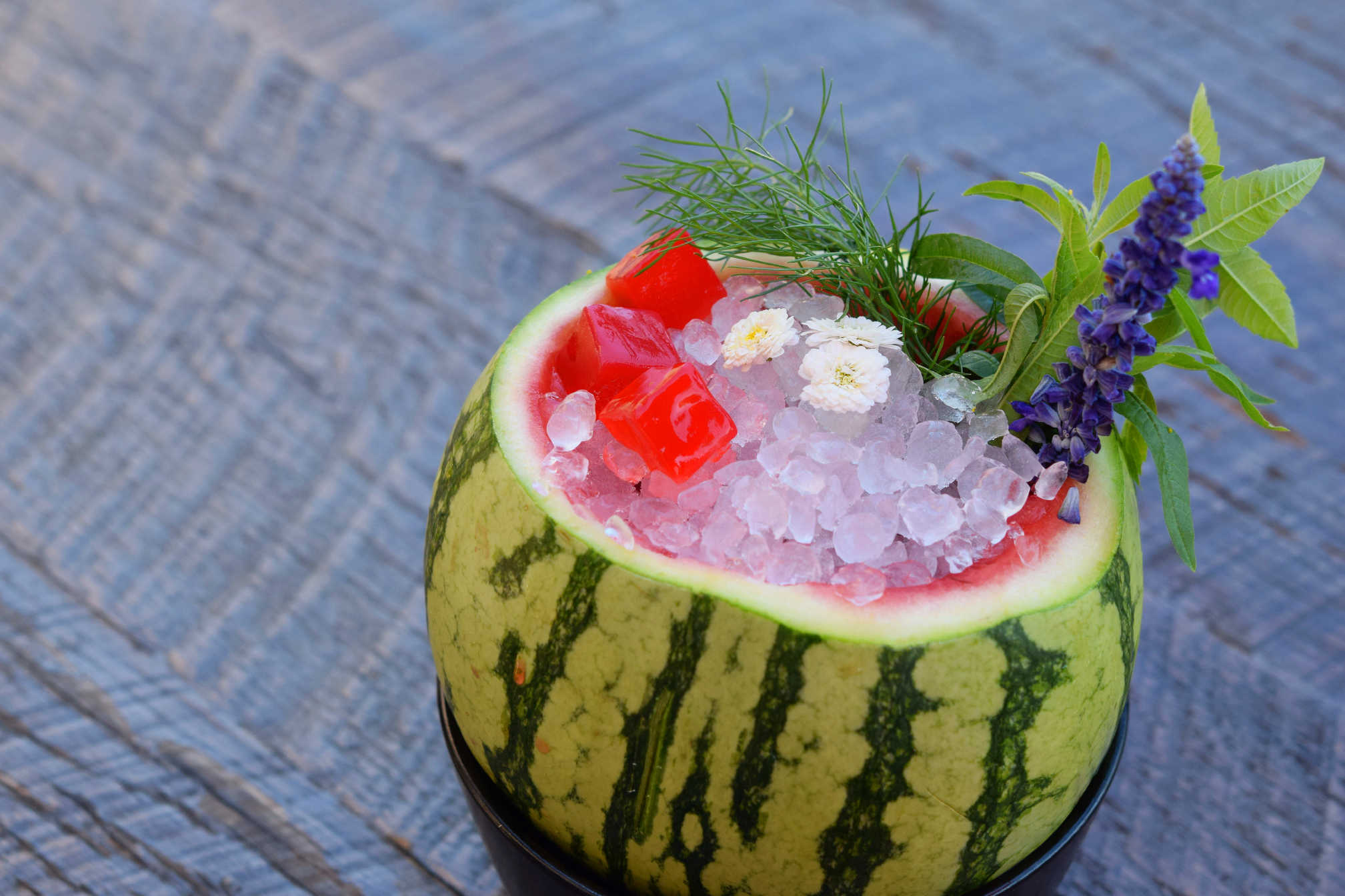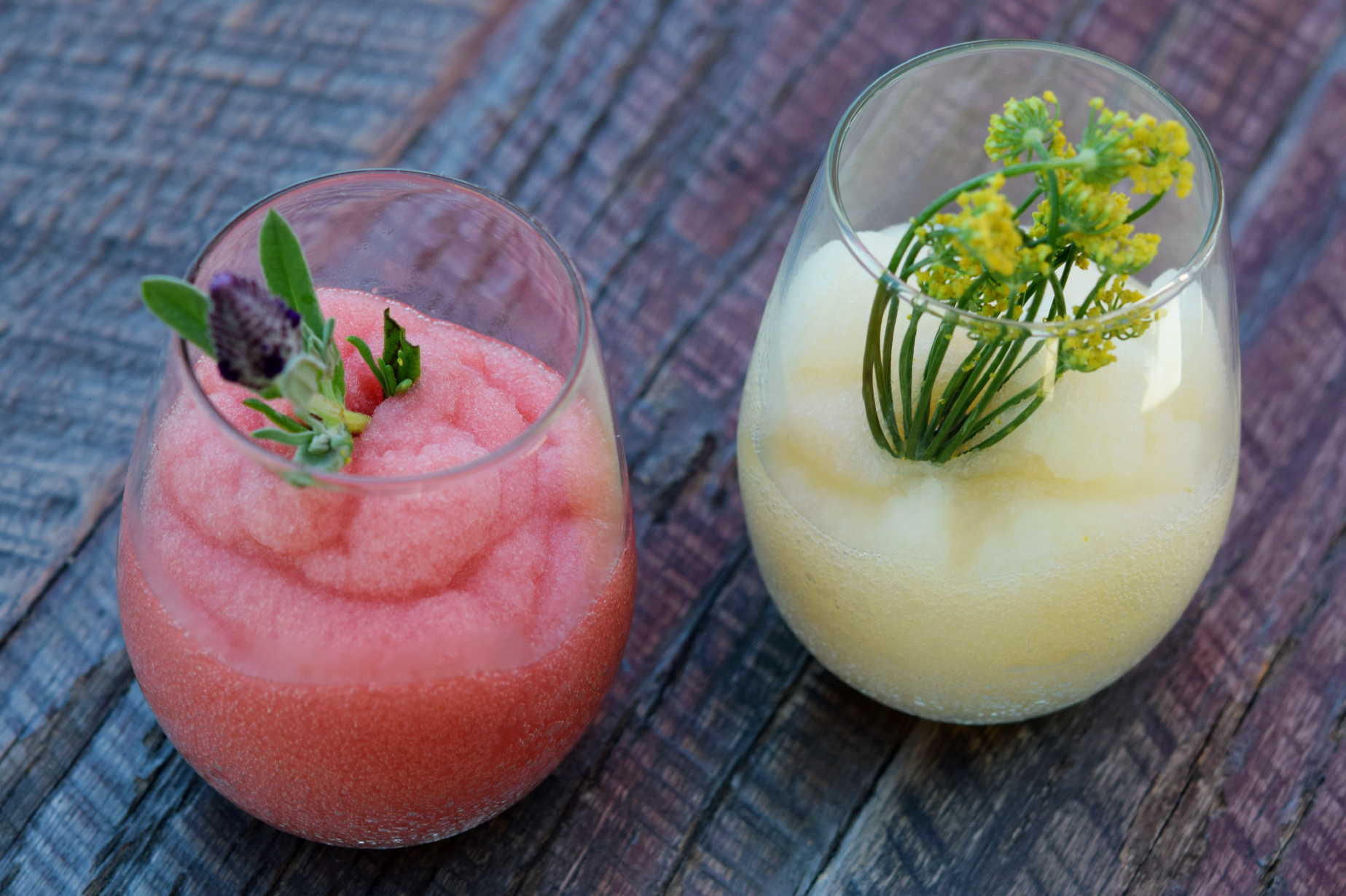 All photos above courtesy of 100eats
MODERN AMERICAN TAPAS, INSPIRED ENTREES & MORE
Shishitos: blistered shishitos, thyme marinated mediterrian olives, feta cheese, orange zest
Sprouts: brussels, lap cheong, hazelnut, brown butter, lemon, pecorino romano
Spanish Octopus: 18-hour sous vide, chorizo, calabrese yogurt, celery, crisp potato, candied kumquats
Bone Marrow Mac & Cheese: oxtail marmalade, fontina, mozzarella, bechamel, candied jalapenos, trottole
Blue Crab Beignet: maryland blue crab, mascarpone, chipotle aioli
Fried Chicken: creole dry spice rub, house-made slaw, white bbq, pickles, brioche, beer batter fries
Bone Marrow Burger: akaushi beef, applewood bacon jam, arugula, brioche, beer batter fries
Pork Chop: seaboard farms 14 oz. bone in chop, bulleit rye maple, polenta, pickled leek, sauteed mustard green
Veal Dumpling: san marzano tomato, garlic, shallot, marsala wine, creme fraiche, pecorino romano
Steak: outside skirt, okra, baby bok choy, jalapeño, shitake mushroom, pickled ginger, tare, yolk
Crab Pasta: jumbo crab, squid ink tonnarelli, beurre blanc, pecorino romano, roasted chili flake
Kurobuta Pig Head: sous vide, roti, garlic paste, salsa roja, tiger sauce
Cereal Milk Creme Brulee: frosted flakes, cinnamon toast crunch, strawberry
BRUNCH AT THE RECESS ROOM - NEW!
Brunch at The Recess Room is unlike anything Fountain Valley has seen before. Chef Sam Green leads the way with innovative creations that make brunch at The Recess Room one of the most unique to be found in Orange County. One of the star menu items is their Smoked Salmon Benedict, made with a red wine poached egg, citrus hollandaise, and a squid ink english muffin. Their brunch menu also takes things to the next level with drink pairings. Plus, brunch just isn't brunch without bottomless mimosas - at The Recess Room, you can order them with a variety of juices including mango, lychee, and blood orange, to name a few.
BRUNCH MENU ITEMS THAT ARE NOT TO BE MISSED
Cereal Crusted Stuffed French Toast: brioche, honey bunches of oats, blueberry and marscapone filling, hibiscus honey
Smoked Salmon Benedict: house-cured scottish salmon, red wine poached egg, citrus hollandaise, squid ink english muffin
Chicken & Waffles: panko-crusted chicken breast, 5 spice syrup, gochujong butter, kimchi waffle
Chilaquiles: slow cooked duck, sunny side up egg, fire roasted corn, pickled red onion, cilantro, crema, salsa verde, crispy corn tortilla
Avocado Toast: avocado mash, ricotta stuffed squash blosson, shaved asparagus, ninja radish, toasted hemp seed, 63c egg, grilled country bread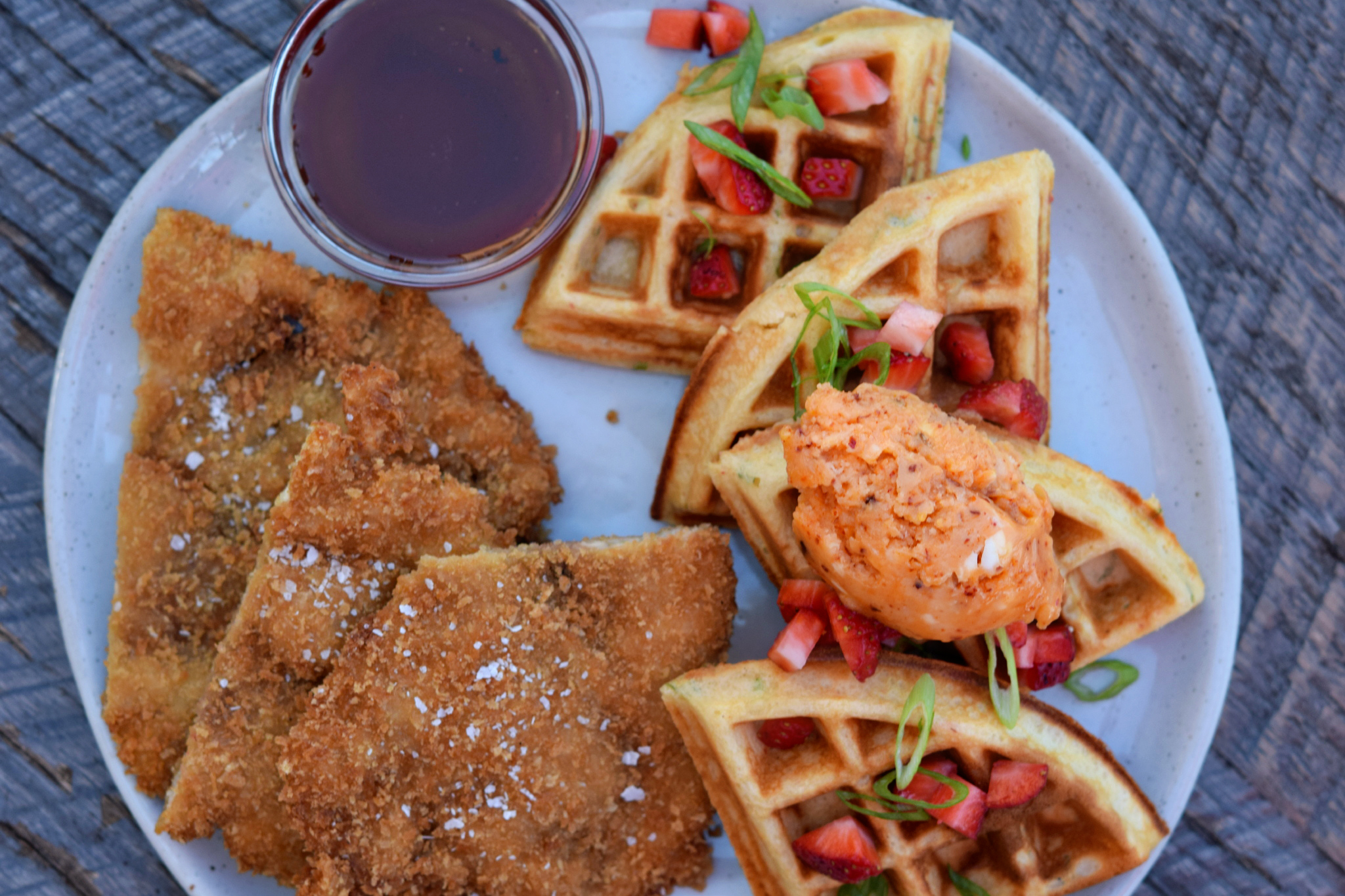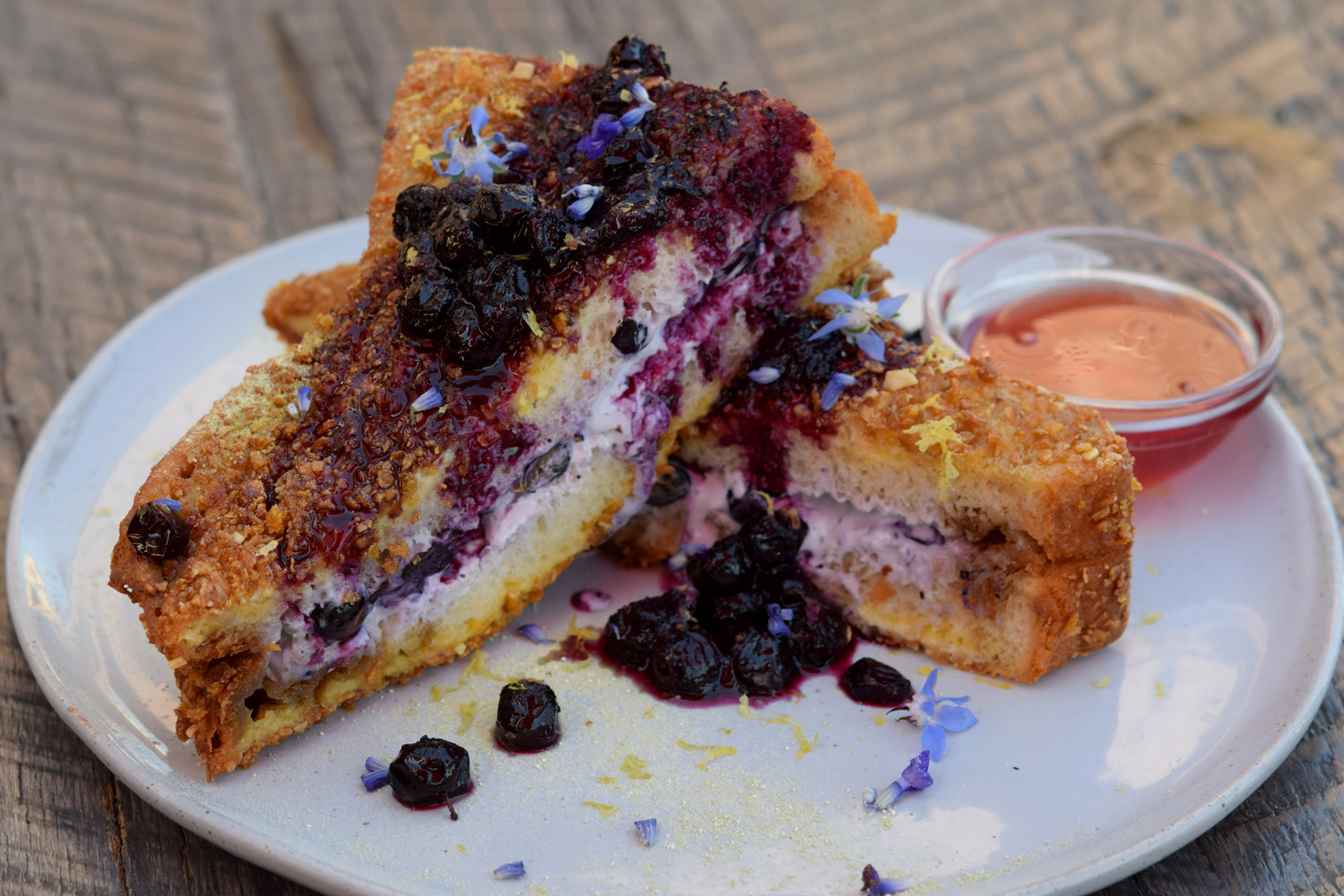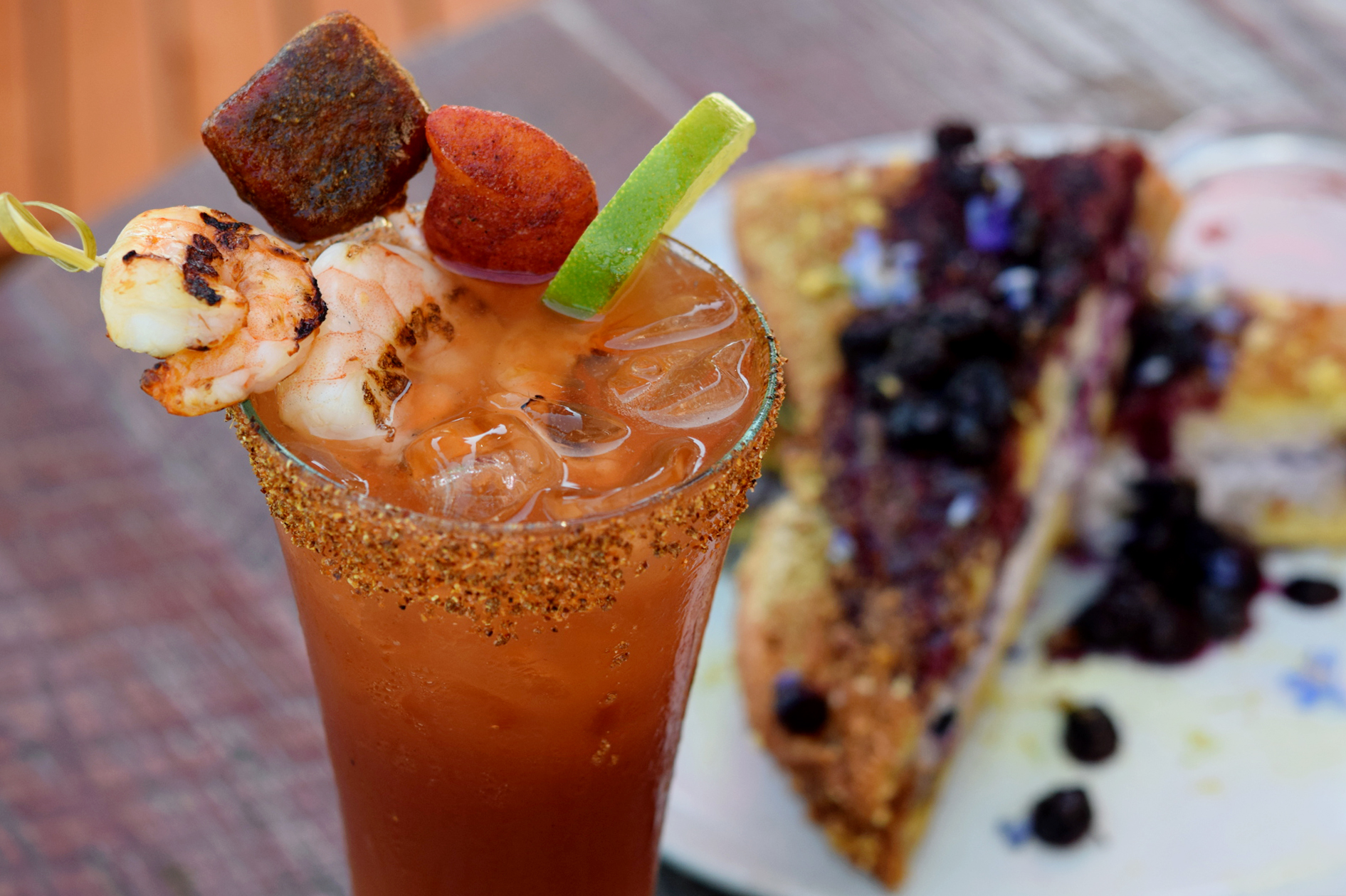 All photos above courtesy of 100eats
LOCATION
18380 Brookhurst Street
Fountain Valley, CA 92708
(714) 377-0398
Driving Directions via: Google Maps
Hours of Operation:
Monday – Sunday, 5:30 p.m. – 10:30 p.m.
Happy Hour
Monday - Friday, 5 p.m. - 7 p.m. is Recess Time!
ADDITIONAL INFORMATION
Menu Pricing: $$ - $$$
Seating: Indoor, Bar Seating & Booth-Table Seating
Service: Full Service
Square Footage & Capacity
Capacity: TBD
Square Footage: TBD
Reservations:
Available through Yelp
Or by Phone: (714) 377-0398
SAMPLE COVERAGE
...coming soon!
For more information or interview requests please contact
Bobby Navarro at 100inc Agency - Events and Promotions.