THE PREMIERE CHEESE FESTIVAL OF SOUTHERN CALIFORNIA
PRESENTED BY FOODBEAST
HAPPENING IN HISTORIC DOWNTOWN SANTA ANA
ABOUT OOZEFEST
What exactly is OOZEFEST?
...it's an amazing festival with tons of awesome cheese creations, and beer!
The premiere cheese festival of Southern California is a culmination of all things satisfying, comforting, and creative. Local vendors serve up their exclusive cheese bites, craft beers are flowing on draft, and there's plenty of fun to be had. There's only one place you can double fist a Unicorn Grilled Cheese and a slice of Spaghetti & Meatball Pizza while watching someone get "OOZED" by a bucket of nacho cheese... and that place is OOZEFEST.
Taking place in the historic district of Downtown Santa Ana near the popular food hall 4th Street Market, OOZEFEST is the annual epicenter of all things cheese-y. This is the second year in a row FOODBEAST has presented this event of epic cheese-proportions, and this year is bigger and better than the last. Now spanning a 2 day period, with two separate ticket options, guests are in for double the entertainment and double the food. Buy a VIP ticket to OOZEFEST and receive all-you-can-eat grub and endless beer, plus additional activities and even more exclusive items from some of the most popular vendors. Visit the OOZEFEST Marketplace for the small fee of $5 and pay-as-you-go. Eat as little or as much as you want, just make sure to come hungry. The Marketplace will even host a bar with custom cocktails, and the food trucks attending will be offering OOZEFEST-exclusive cheese items for purchase. No matter what your level of commitment to this cheese-centric weekend, the team from FOODBEAST is promised to deliver a most-excellent, ooey-gooey experience to all in attendance of OOZEFEST, 2016.
OOZEFEST ACTIVITIES
This year's OOZEFEST will be offering it's guests never before seen cheese-experiences. While attendees aren't stuffing their faces with delicious cheese bites and local brews, they can partake in a handful of unique interactive activities. Play a game of Pizza Roulette with the Jinny's Pizzeria crew, get 'OOZED' by a bucket of cheese, or fight for a spot to partake in a cheese pizza-slice eating contest. Even if guests aren't feeling like taking chances, they can watch all these events and cheer on the brave participants.
ONE OF A KIND "CHEESEY" INTERACTIONS AT OOZEFEST
NA'CHO TYPICAL DUNK TANK
One of the many sights the OOZEFEST Marketplace will provide is this cheesey game of chance. This 2-person activity involves a number of balls, a chair, and a bucket of cheese. The "pitcher" will aim for a target, which if successfully struck, will induce a bucket of 'OOZE' upon their counterpart. The risk-taking individual in the chair will be supplied goggles and a plastic poncho of sorts to protect their clothes. Best of luck to both of these daring souls.
SAY 'CHEESE' PHOTO-OP
To commemorate your time at OOZEFEST, step up to the photo-op station FOODBEAST and crew have supplied. This photo setting is a-top a 20 foot bed of cheese. Share those snaps on social media, or maybe even print 'em out for a photo album to show your grandkids one day. ...Cheese-y enough? We think so too.
CHEESE PIZZA EATING CONTEST PRESENTED BY JINNY'S PIZZERIA
Attention lovers of all things pizza! A cheese pizza eating contest is going down at this year's OOZEFEST, and it's going to be out of control. Teams of 2 will attempt to break the Guiness World Record of "The most pizza eaten without your own hands". With one designated eater, and one designated feeder displaying what 'teamwork' really stands for. This showcase of crazy competitive eating is sure to get messy - definitely one you don't want to miss.
CHEESE CREATIONS & BEER
OOZEFEST is the world premiere for 20+ signature cheese creations courtesy of a variety of local SoCal eateries. Whether these establishments are known for cheese-forward dishes or not, they've pulled out all the ooey-gooey stops for this year's event. Not to mention, we've partnered with local breweries to create some exclusive and unique beers.
WHAT SOME OF OUR AMAZING FOOD VENDORS WILL BE BRINGING
SIT LOW PHO
Jalapeno Popper Ham & Cheese Egg Roll: 4th Street Market's favorite pho joint is bringing it - these crispy egg rolls are filled with roasted jalapeno pepper, cream cheese, mozzarella, ricotta and diced ham
SLAPFISH
Maine Lobster Taquitos: last year's 1st place winner is back - these crispy made-to-order taquitos are filled with Maine lobster, cheese, and Slapfish's signature awesome sauce
MESSHALL CANTEEN TRUCK
MP Grilled Cheese: BBQ pulled pork, bacon, fried mac and cheese patty stuffed with queso oaxaca and topped with cheddar cheese on texas toast
War Pig Grilled Cheese: BBQ pulled pork, bacon, fried mac and cheese patty stuffed with queso oaxaca, topped with napalm sauce, ranch, and bleu cheese on texas toast
CHOMP EATERY
Unicorn Melt: a classic grilled cheese gone wild, filled with rainbow-colored cheese
THE CUT
Goucho Slider: the beloved handcrafted burger foodtruck delivers - ground beef patty, smothered with smoked mozarella, cilantro chimichurri, and roasted banana
KOGI TRUCK
Kimchi Grilled Cheese: classic ooey gooey grilled cheese with that signature kimchi bite
ALL FLAVOR NO GREASE
Super Quesadilla: LA street vendor brings his legendary giant personality and super quesadillas to the streets of OOZEFEST - filled with ground beef, grilled chicken, marinated shrimp and more
THE IRON PRESS
Chicken Mac & Cheese Waffles: a macaroni and cheese waffle filled with crispy bacon and chicken, topped with creamy ranch and scallions
SGT. PEPPERONI'S
Balls Deep: housemade meatball covered in cheese and dough and fried to perfection
CHAPTER ONE
Duck Croquetas: duck croquetas deep fried, served with fresh mole sauce, fresh lime creme fraiche, and sprinkled with queso fresco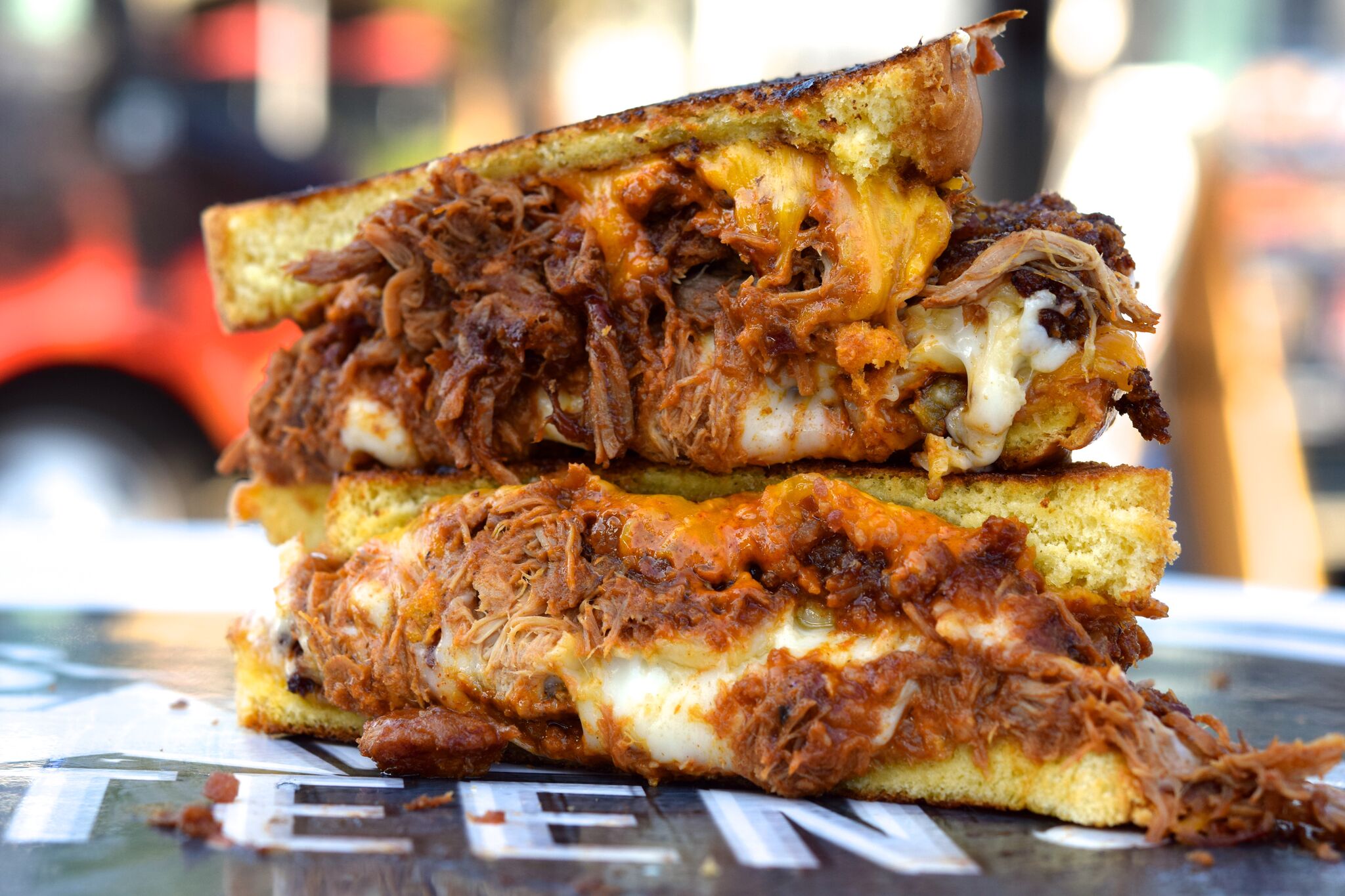 A SELECTION OF CRAFT BEER FROM LOCAL BREWERIES
4 SONS BREWING, THE GOOD BEER COMPANY, GOLDEN ROAD BREWING, ACOUSITC ALES, LAGUNA BEACH BEER CO, REVERAND NAT'S CIDER, MODERN TIMES, SAINT ARCHER, UNSUNG BREWING & MORE
WHEN
SATURDAY, OCTOBER 15TH & SUNDAY, OCTOBER 16TH, 2016
MARKETPLACE 12PM - 10PM, VIP 5PM - 9PM
WHERE
OOZEFEST will be located in central Downtown Santa Ana. If you're already familiar with DTSA's 4th Street Market's location, this event will be taking over that general area. Just outside of 4th Street's doors is the intersection of East 5th Street and North Bush Street -- this will be the gates to OOZEFEST. The Marketplace area will span from Main to Spurgeon on 5th Street.
Driving Directions via: Google Maps
PARKING
Available in the parking structure off of East 5th Street and Spurgeon Street
Saturday: Paid parking available in DTSA structures for $7 Daily Max, meters are $1.50 per hour
Sunday: All parking structures and meters in Santa Ana are FREE on Sunday's
EVENT TICKETS
VIP
ALL YOU CAN CONSUME
$40 - Early Bird Price (ends 9/23)
$50 - Standard Price
MARKETPLACE
BUY AS YOU GO
$5 Entry
OOZEFEST is a RAIN OR SHINE event.
*vendors and activations subject to change without notice
SAMPLE COVERAGE
For more information or interview requests please contact
Bobby Navarro at 100inc Agency - Events and Promotions.