LOCATED AT 4TH STREET MARKET, DTSA
offthehoof.com | instagram.com/offthehoofdtsa | facebook.com/offthehoofdtsa
EXECUTIVE CHEF MICHAEL PUGLISI, GENERAL MANAGER JONATHAN ARHLEN, MANAGING PARTNERS STEVE SABICER & SHEILA ANDERZUNAS
ABOUT
A SLICE OF ELECTRIC CITY BUTCHER
From the minds of Orange County's top butchery Electric City Butcher, comes Off the Hoof. Located in the popular food hall 4th Street Market in downtown Santa Ana, CA Electric City Butcher is a chef-driven, European inspired whole animal butcher shop. Off the Hoof is serving up a passionate menu featuring The same sustainable, humanely-raised, and delicious meats found at Electric City Butcher, and filling plates with flavorful specialties on the daily. Chef Michael Puglisi's passion for the product is clear, and each ingredient is treated with great care.
More About: Co-Founder and Chef Michael Puglisi
MENU
Electric City Butcher brings their passion to the plate with ranch-to-table BBQ, sandwiches and more! All of their meats are hormone and antibiotic-free, sourced from small, family-owned farms, and the beef is 100% grass-fed and grass-finished. Electric City Butcher has been providing customers with "meat they can trust" for over four years, and their team is excited to continue this pursuit through their Off the Hoof restaurant concept.
"We try to make everything we possibly can from scratch, and if we can't, we buy it locally." - Chef Puglisi
…get ready to enjoy a slice of ECB Santa Ana!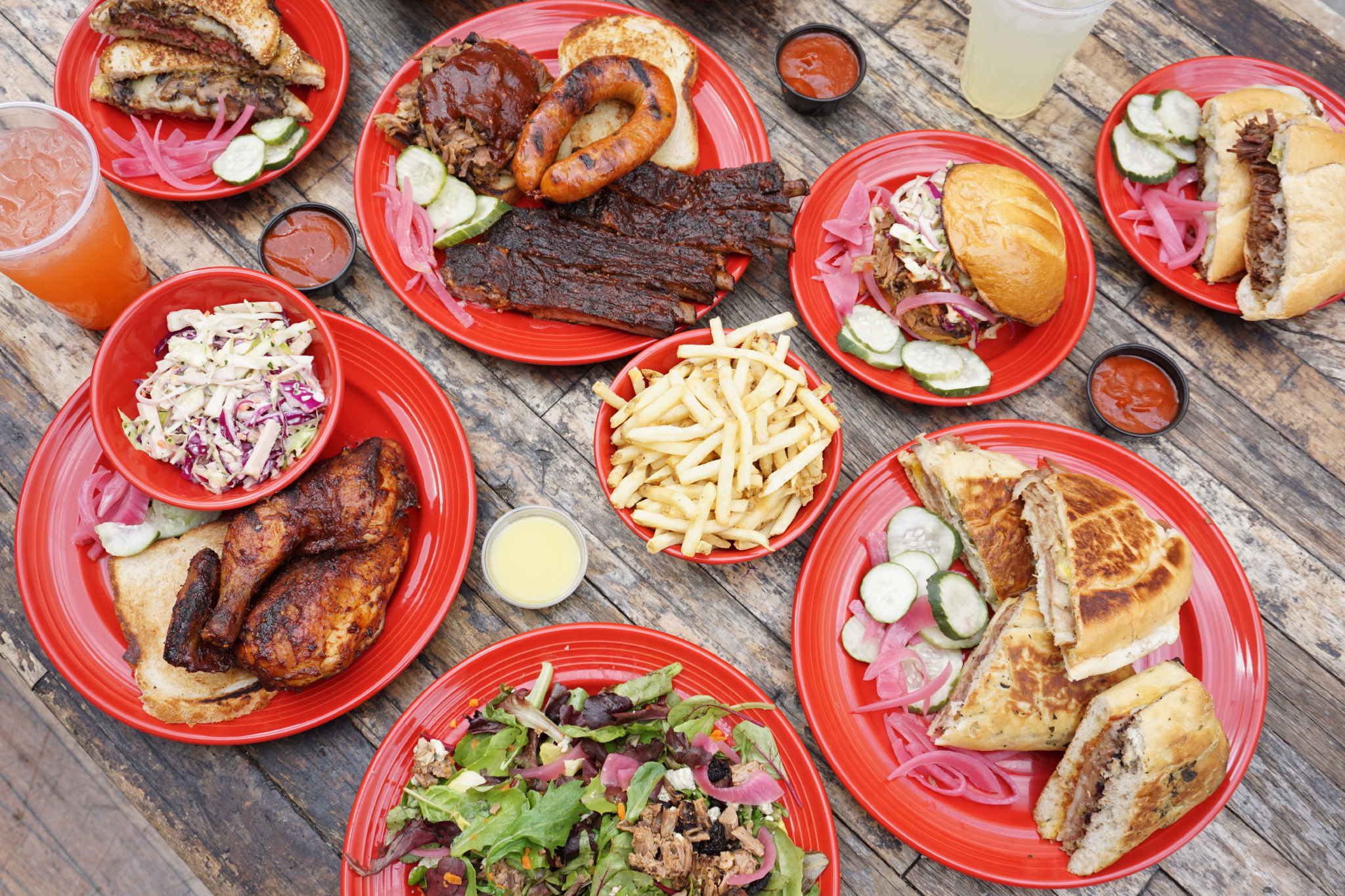 All photos above courtesy of 100inc Agency

BBQ, SANDWICHES & MORE
*MENU ITEMS ROTATE FREQUENTLY*
SNACKS
Belly Bites: smoked pork belly, seasoned, deep fried and ECB mostarda
Dirty Tallow Fries: kennebec potatoes, BBQ Chopped Pork, ECB BBQ sauce and smoked cheddar
SANDWICHES
Cubano: french roll with ECB ham slices, homemade pickles, roasted Llano Seco pork, garlic aioli and yellow mustard
Patty Melt: rye bread, grass-fed beef patty, caramelized mushrooms and onions, smoked white cheddar, garlic aioli, whole grain mustard
BBQ Chopped Pork Sandwich: smoked Llano Seco pork, ECB BBQ sauce, home slaw, on a brioche bun
Muffuletta: focaccia roll, artichoke tapenade, provolone cheese, garlic aioli, chef's selection of ECB salami
Butcher Shop Sausage of the Day: a different hand-twisted ECB sausage on a bun every day
Spicy Beef Dip: braised 100% grass-fed beef, pepperoncini, provolone, ECB bone-broth au jus, french roll
SIDES
Meaty Beans: chock-full of smoked pork, onions, and spices
Creamy Potato Salad: fingerling potato salad, egg, celery, pickled fennel and house mustard
Fresh Tossed Slaw: cabbage, green apples, carrots, parsley, red onion, and house vinaigrette
BBQ PLATES (AVAILABLE FRIDAY - SUNDAY)
Rib Plate: four or eight bones of Llano Seco pork spare rib with choice of two sides and white bread
1/2 Smoked Pasturebird BBQ Chicken: with choice of two sides and white bread
Pulled Pork or Sausage plate: with two sides and white bread
ADDITIONAL INFORMATION
LOCATION
4TH STREET MARKET
201 E. 4th Street
Santa Ana, CA 92701
Driving Directions via: Google Maps
Hours of Operation: Lunch & Dinner, Daily
Sunday - Thursday, 11:00 a.m. - 9:00 p.m.
Friday - Saturday, 11:00 a.m. - 10:00 p.m.
Menu Pricing: $
Seating: Indoor Food Hall & Outdoor Patio Seating
Service: Counter

SAMPLE COVERAGE

…coming soon!

For more information or interview requests please contact
Bobby Navarro at 100inc Agency - Events and Promotions.