ABOUT
Mesa appeals to a chic 21+ crowd with bold small-plate cuisine and creative cocktails in a contemporary lounge setting. Mesa brings LA to OC with its unique architectural design, retractible roof, living wall, local art displays and movies that are projected onto the walls. Located in the Camp shopping center of Costa Mesa, Mesa is an oasis that enthusiastically serves up craft cocktails and designer bites effortlessly. When not lost in the admiration of the cuisine, get involved in the almost nightly music scene. Go ahead, we invite you to sit (or dance) and stay a while.
More About: Chef Abad Martinez
MENU
Some of Mesa's delightful small plates and menu items include Burgers, Cast Iron Mussels, seasonal salads and small plates, Wood Oven Pizzas, and more. Executive Chef Abad Martinez is the current brains behind the execution and innovation.
TAPAS, MODERN AMERICAN CLASSICS & MORE
STARTERS & SMALL PLATES
Beet Salad: horseradish crema + avocado + mixed greens (vegetarian)
Brussel Leaves: balsamic + almond slices + chives + lemon juice (vegetarian)
Cauliflower: pickled fresno chili + chimichurri + tahini cilantro + sumac (vegetarian)
Cucumber Salad: green goddess + mint + cilantro + dill (vegetarian)
LAND & SEA
Beef Medallion: foie gras + teriyaki sauce + cherry tomato
Cast Iron Mussels: olive oil + white wine + garlic
House Burger: double patty + havarti cheese american cheese + 1000 island
WOOD-OVEN PIZZAS
Burrata: pesto + prosciutto + burrata
Meat: pepperoni + fennel sausage + honey roasted ham
Mushroom: mixed mushroom + mornay + parsley (vegetarian)
DESSERTS
Banana Custard Ice Cream: graham cracker crumble + banana chip + black pepper meringue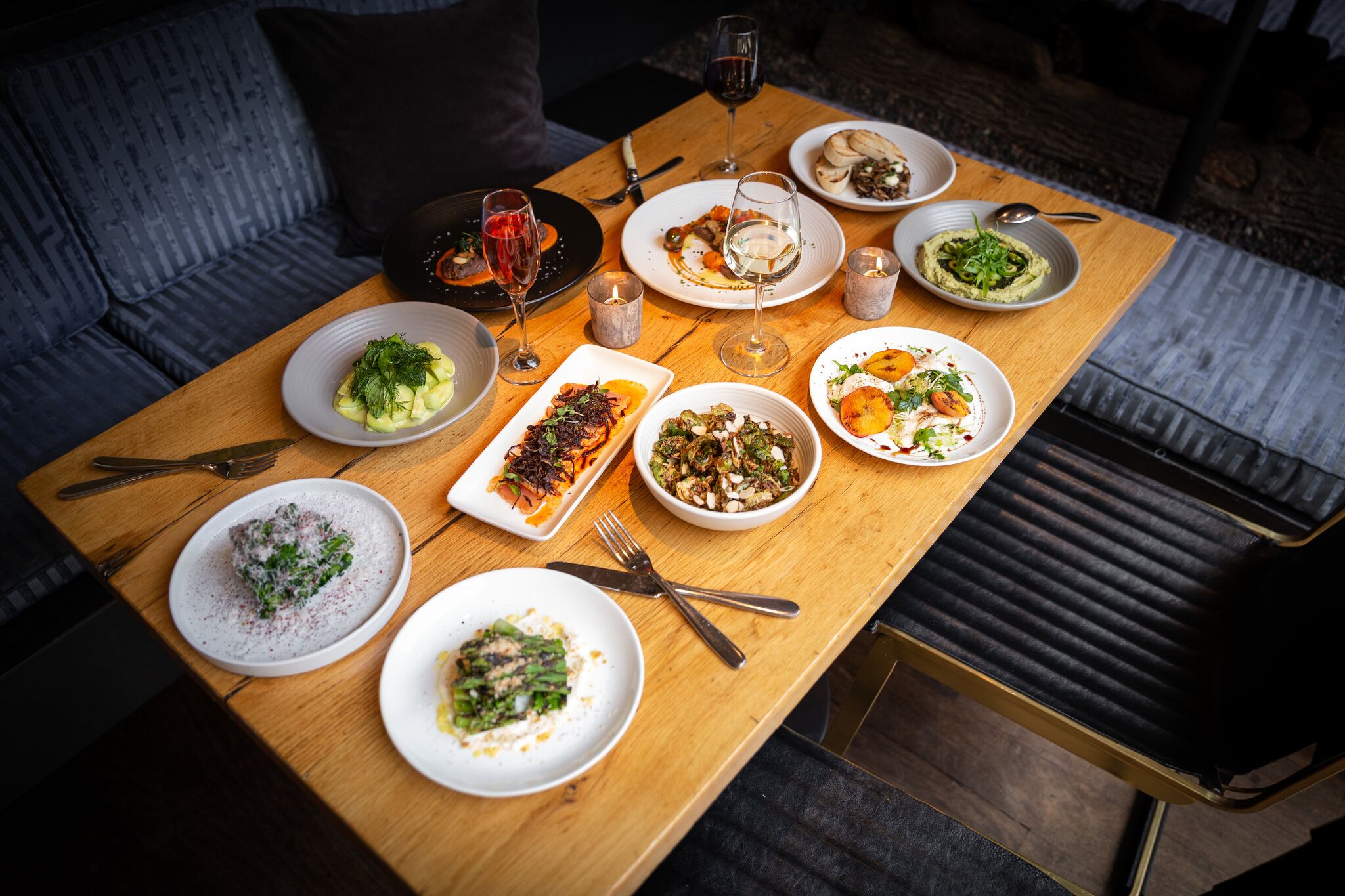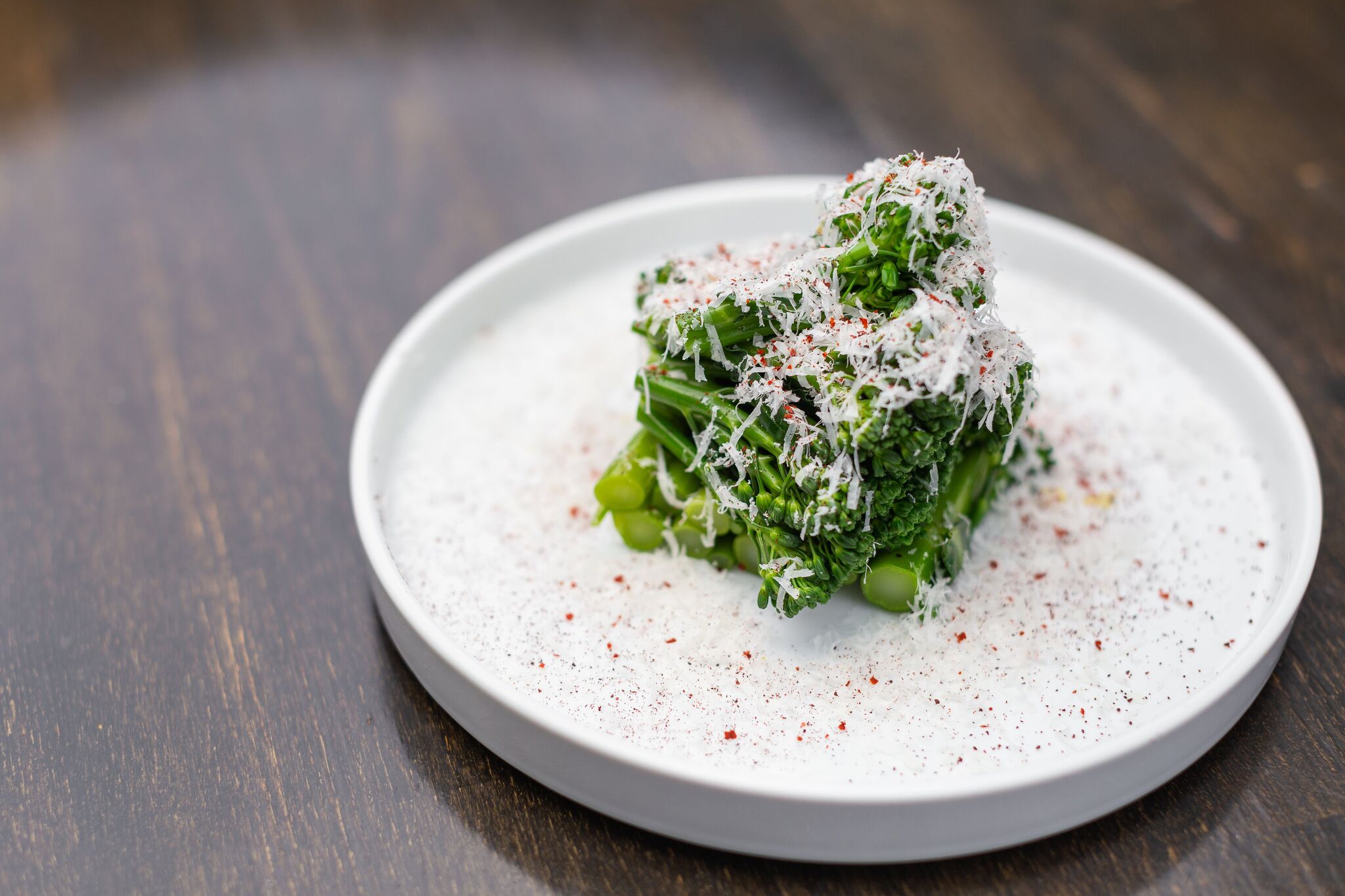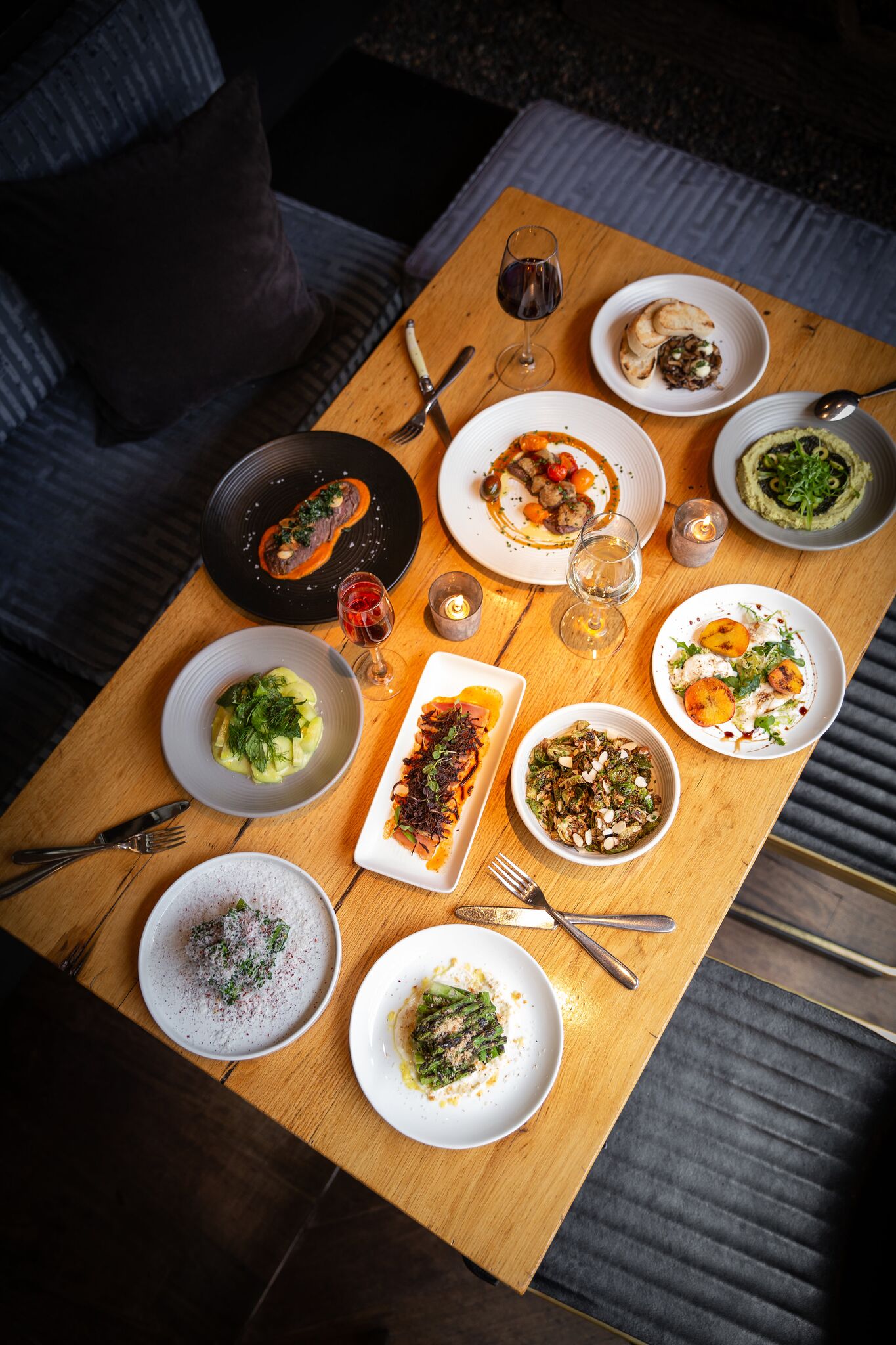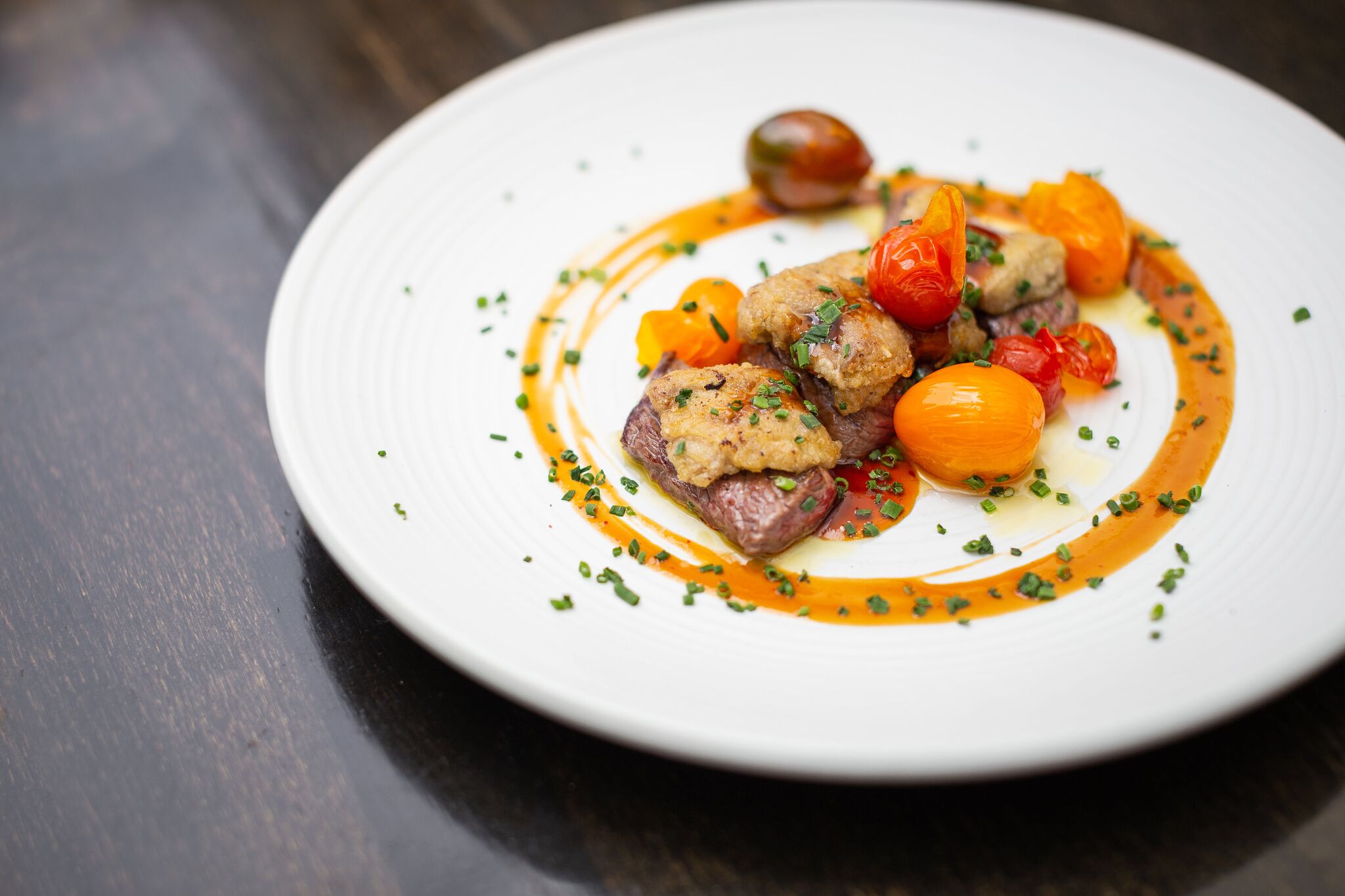 All photos above courtesy of 100inc Agency
COCKTAILS
Old Fashioned: kentucky small batch straight bourbon, citrus oils, bitters, sugar
The Clash: vodka infused with tangerines and arbol chiles, fresh cilantro, vanilla, lemon, lime
Eleanor Rigby: earl grey infused Ketel One Citroen, honey, lemon, elderflower, lavender bitters
3rd Street Crusade: Fernet Branca, green Chartreuse, lime, turbinado
22 in Manhattan: Ketel One, lychee, asian pear, rose water, Cocchi Americano Rosa, lemon
Cage the Abricot: Angostura 5 yr rum, Giffard Abricot, lemon
Sangria: fresh cut apples, pears, lemons. RED - brandy based, WHITE - gin based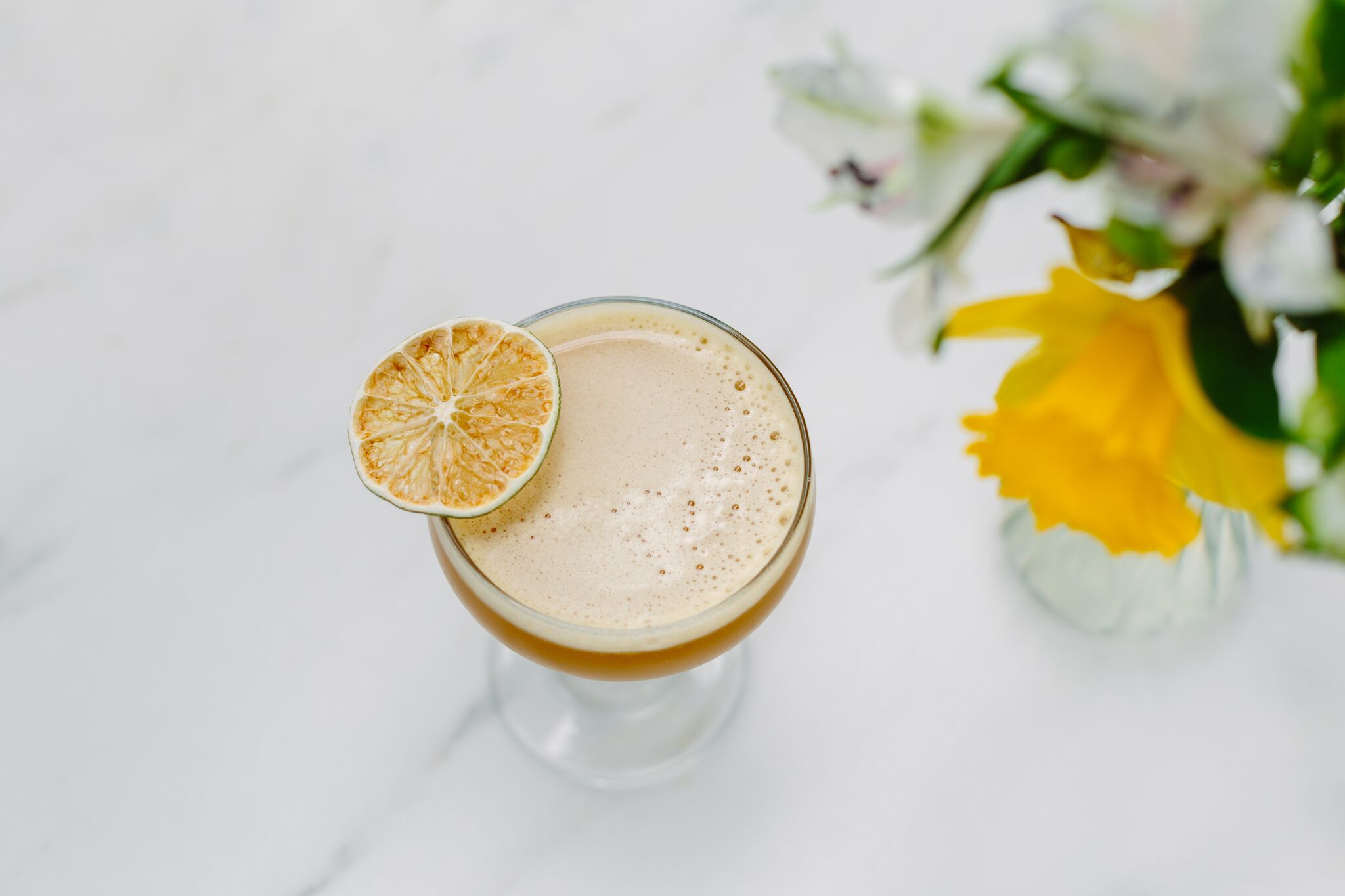 All photos above courtesy of Sarah King

ADDITIONAL INFORMATION
Mesa is available for semi-private events of up to 100 guests. Make a reservation for parties of 12 or more people.
LOCATION
725 Baker St, Costa Mesa CA 92626
At the corner of Bristol and Baker, Located in The CAMP
(714) 557-6700
HOURS OF OPERATION
Tuesday - Sunday
KITCHEN
Dinner: 5 p.m. - 12 a.m.
Late Night Menu: 11 p.m. - 1 a.m.
BAR
Craft Bar Service: 6: p.m. - 2 a.m.
Social Hour: 5 p.m. - 7 p.m.
Industry Night: Sunday's
Seating: Tables, Booths, and Bar Seating Available

WEEKLY ENTERTAINMENT
Mesa hosts live music every night, bringing the ambiance to a whole new level.
Tuesdays
Dj Tealong & Fluent1 at 9 p.m.
*Industry Night -- Present your industry business card or paystub for discounted industry menu.*
Wednesdays
JOSHUA PAYNE ORCHESTRA at 7:30 p.m.
DJ DANNY LOVE at 10 p.m.
*Free corkage and sexy jazz all night long*
Thursdays
PLUS ONE at 9 p.m.
*The original OC house party with very special guests*
Fridays
OLD SCHOOL HIP-HOP/R&B MASH UPS at 9 p.m.
+DJ Jared Lawrence (1st and 3rd Friday)
+Dj Sandok (2nd and 4th Friday)
Saturdays
A/V DEEP SEXY HOUSE at 9 p.m.
+DJ Pretty Boy Paul (1st and 3rd Saturday)
+ Torosbros (2nd and 4th Saturday)
*$10 cover after 10pm*

SAMPLE COVERAGE
CBS2 // KCAL9
Inside Out Chef's Table Dinner live demo with Chef Niki
For more information or interview requests please contact
Bobby Navarro at 100inc Agency - Events and Promotions.