LOCATED AT TRADE MARKETPLACE, IRVINE
AND 4TH ST MARKET, SANTA ANA
instagram.com/groundhouseburger
CO-FOUNDERS ANDY NGUYEN,
BEAR DEGIDIO, & CHEF FERNANDO VALLADARES
ABOUT
The newest patty on the block has arrived! The same clever minds Pig Pen Delicacy (the hot-spot for all things pork), has been transformed into a news-worthy burger concept, appropriately named Ground House. Ground House officially opened to the public on March 10, 2018 at TRADE in Irvine (open daily), and is now coming to downtown Santa Ana's popular food hall 4th Street Market. They offer foodies the opportunity to indulge in classic burgers as well as unique photo-worthy specials, along with crave-worthy sides. Ground House is a culturally-inspired, gourmet burger concept founded in 2018 by a group of entrepreneurs all from unique backgrounds.
"Our focus is the providing THE FULL EXPERIENCE, some of the wildest looking, most jam packed flavor, fresh tasting burgers in the industry. Powered by an unusual approach to marketing, social media campaigns, & our special seasonal burger roll outs, Ground House Burger provides a burger eating experience unlike anything available." - Ground House Co-Founders
More About: Co-Founder & Executive Chef Fernando Valladares
MENU
The Ground House menu, mostly simple and straight-forward, is sure to satisfy countless taste buds. Inspiration for many of the menu items came from multiple regions around the world, with a specific attention to flavor. The goal is for every bite to allow eaters to remember memories and experiences they had in regions or places they have previously traveled. Each burger has a very specific taste, and features hand-crafted sauces and fresh ingredients. Grab a classic burger, or branch out and try items such as the Ono Burger (complete with pineapple and teriyaki sauce), maybe even eye-catching items like The Magical Burger or Fry Roulette! The menu appeals to the most adventurous eater all the way to the classic simple burger eater!
BURGERS & SIDES
Classic Burger: 1/4 lb angus beef patty, American cheese, tomato, onion, and scratch-made 1000 island spread, served on toasted deli bun (available in single, double or triple)
BBQ Bacon Cheeseburger: 1/4 lb angus beef patty, American cheese, crispy bacon, onion strings, bbq sauce, served on potato bun
Kimchi Burger: Kalbi Marinated Beef, kimchi, iceberg lettuce, white cheddar cheese, and Kewpie Mayo Chili Paste Sauce on a toasted deli bun
Magical Burger: Special Menu Item — four 1/4 lb angus beef patties, American cheese, 1000 island spread, rainbow sprinkles and mini marshmallows, on a rainbow bagel bun
Santa Fe Burger: 1/4 lb angus beef patty, fresh guacamole, pepper jack cheese, crispy tortilla strips, caramelized onions and zesty sauce on a toasted deli bun
Lone Star Burger: 1/4 lb angus beef patty, bleu cheese crumbles, beer-battered onion rings, crispy bacon caramelized onions, jalapeños and horseradish bbq aioli on grilled texas toast
Ono Burger: 1/4 lb angus beef patty, white cheddar cheese, sliced honey-glazed ham, fresh teriyaki glazed pineapple, mixed greens, and sweet teriyaki aioli on a toasted deli bun
The Pinoy Burger: 50/50 blend of longaniza sausage and 1/4 lb angus beef patty, sharp cheddar cheese, caramelized onions, mixed greens and banana ketchup aioli on a toasted deli bun
Ground House Vegan Burger: 100% vegan, 1/4 lb plant based patty, lettuce, tomato, 1000 island veganaise, served on potato bun
Sides: fresh cut fries, sweet potato fries, onion rings *Try the FRY ROULETTE for the full-on fry and dipping sauce experience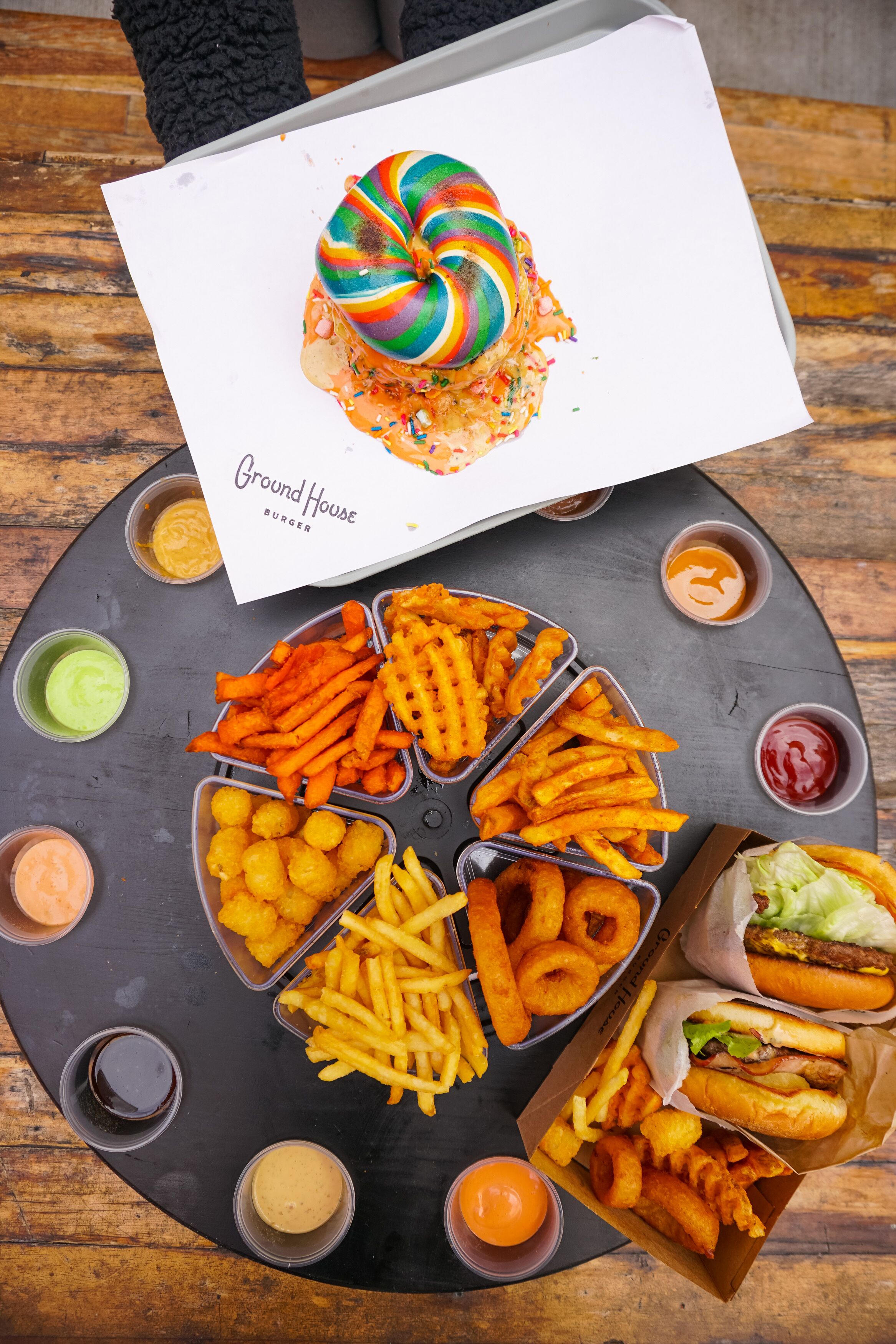 All photos above courtesy of 100inc Agency
ADDITIONAL INFORMATION
TRADE Marketplace
2222 Michelson Dr.
Irvine, CA 92612
Info@TradeFoodHall.com
HOURS OF OPERATION
Monday - Thursday, 8 a.m. - 9 p.m.
Friday - Sunday, 8 a.m. - 10 p.m.
4th Street Market
201 E 4th Street
Santa Ana, CA 92701
info@4thstreetmarket.com
HOURS OF OPERATION
Sunday - Wednesday, 7 a.m. – 9 p.m.
Thursday, 7 a.m. – 10 p.m.
Friday - Saturday, 7 a.m. – 11 p.m.
Seating: Indoor & Outdoor Food Hall Seating Available
Service: Counter
Menu Pricing: $
For more information or interview requests please contact
Bobby Navarro at 100inc Agency - Events and Promotions.