LOCATED AT 4TH STREET MARKET, DTSA
grazecraftburgers.com | instagram.com/grazecraftburgers
OWNER CHAD ALDRICH
ABOUT
GRAZE, a brand new burger concept has arrived at 4th St Market, downtown Santa Ana's popular food hall. From the same team that brought you 'The Coconut Truck' (awarded Best Food Truck in 2015 by OC Weekly) comes this menu of carefully crafted burgers and sides. Their team takes great pride in their handcrafted way and simple yet refined menu. Whether you prefer a classic patty with American cheese and pickles, or something a bit more out of the box and gourmet, GRAZE has you covered.
More About: Owner Chad Aldrich
MENU
The menu items at GRAZE feature the highest quality products available. Their burgers are grilled to order and feature an all natural signature blend patty of Short-Rib, Brisket, and Chuck, and come served on a freshly toasted locally made artisan bun. Their signature sauces are created in house with only the finest ingredients including Calabrese Chili Pepper, Bourbon Barrel Smoked Black Pepper, Rendered Duck Fat and House Fermented Black Garlic (a 192 plus hour process). Short cuts just aren't part of their handcrafted process, and their burgers showcase that.
HANDCRAFTED BURGERS & MORE
BURGERS
Graze: Arugula, Tomato, Caramelized Onions, Graze Sauce
Standard: American, House Pickles, Caramelized Onions, Graze Sauce, +Double Standard (add a patty)
Smokey: Smoked Cheddar, Bacon Jam, Crispy Shallots, Slaw, Bourbon BBQ Sauce
Shroom: Cave Aged Gruyere, Caramelized Onions, Garlic 'Shrooms, Graze Sauce
Elote: Grilled Corn, Cojita, Jalapeno Queso, Tequila Lime Aioli
Bacon Jam: Red Wine Bacon Jam, Swiss, Caramelized Onions, Tomato, Arugula, Graze Sauce *(Sub Blue Cheese)
SIDES
Fresh-Cut Fries: Served with Calabrese Pepper Organic Ketchup
Black Garlic Fries: Fresh-Cut Fries Tossed in Black Garlic and Parmesan
Loaded Bacon Fries: Aged Cheddar, Crispy Bacon, Graze Sauce, Chives
Slaw: Cabbage, Carrot, Scallion, Sesame Dressing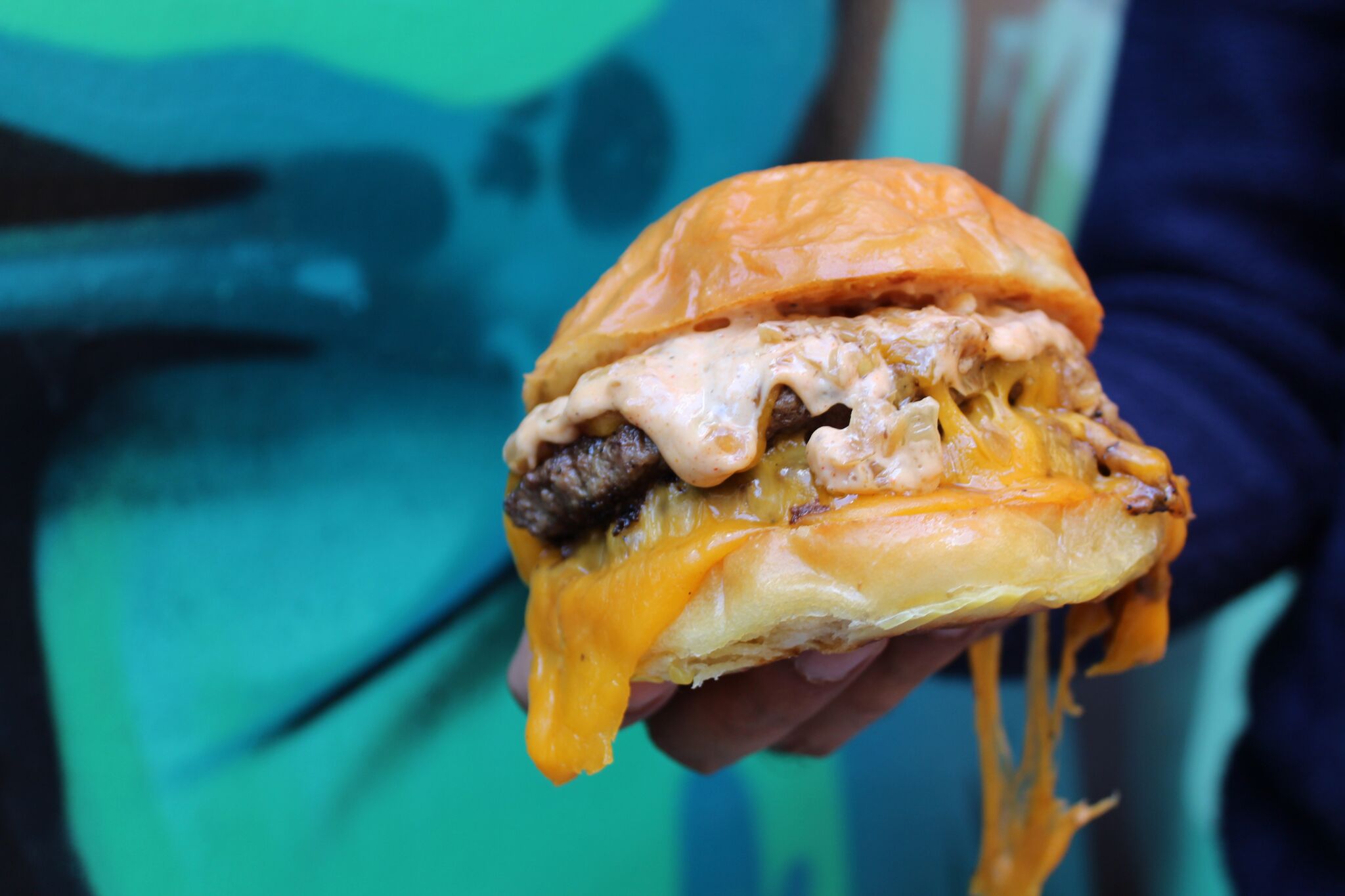 All photos above courtesy of 100eats
ADDITIONAL INFORMATION
LOCATION
4TH STREET MARKET
201 E. 4th Street, #129
Santa Ana, CA 92701
(714) 552-0208
Driving Directions via: Google Maps
Hours of Operation: Lunch & Dinner, Daily
Sunday - Thursday, 11:00 a.m. - 9:00 p.m.
Friday - Saturday, 11:00 a.m. - 10:00 p.m.
Menu Pricing: $
Seating: Indoor Food Hall & Outdoor Patio Seating
Service: Counter
SAMPLE COVERAGE
...coming soon!
For more information or interview requests please contact
Bobby Navarro at 100inc Agency - Events and Promotions.