ABOUT
Premium, unadulterated ice cream that will make you want to lick the bowl each and every time.
Atomic Creamery is Newport Beach's purveyor of fresh, made to order, organic ice cream. Walk into Atomic Creamery and be transported to an era of simplicity and nostalgia. You won't see ice cream at first, because each scoop, sundae and shake is made fresh to order. Atomic Creamery's menu consists of classic flavors with modern twists such as Cherry Jubliee, made with Luxardo cherries imported from Italy.
While Atomic Creamery's expert Nitroteers® pour fresh ice cream base and liquid nitrogen into their patented "jetson"-like mixers, a show of chilly fog will billow over the countertop as the liquid nitrogen freezes each order. Within three to five minutes you'll be eating the freshest, creamiest ice cream possible! Since all of their ice cream is made-to-order, there is no need for any stabilizers, gums, and other chemical ingredients that you'll find in other ice creamers. In addition, their organic base comes from California Cows (Straus Family Creamery) and consists of only five simple ingredients. As for the flavors, if they're not made in-house, they're sourced from Belgium, Lebanon or other exotic places the Atomic Creamery team has traveled to. With a team of creative and passionate minds, there is always a new flavor combination on the horizon at Atomic Creamery.
The mission of their Veteran-owned team is and always will be to produce and serve outstanding tasting ice cream while using only fresh and premium sourced ingredients. Atomic Creamery -- Ice cream you won't forget!
More About: Founder Kari Kohen-Leasure
MENU
ORIGINAL. UNIQUE. DECADENT.
Atomic Creamery makes their product in small batches, so when they run out of something, they're out for the rest of the day. This means that arriving closer to closing time might equate to fewer flavor choices. Each and every ice cream is made with five simple and organic ingredients: organic cream, organic nonfat milk, organic cane sugar, organic egg yolk and organic sweet cream buttermilk. Their limited Creamations change with the season and holidays, making their offerings always exciting (and difficult to choose between)! Indulge in classic and nostalgic flavors like Vanilla Bean and Cookies 'n Cream, or branch out and try one of their signature combinations like the Gramhattan Project featuring Biscoff cookie butter or the Owen Experiment with strawberry ice cream stacked with Oreo cookies and marshmallows. No matter what you choose, you'll certainly find yourself licking the bowl at the end of the experience.
SCOOPS, MILKSHAKES & MORE
NOSTALGIC FLAVORS: Cherry Jubilee, Rocky Road, Vanilla Bean, Butter Pecan Praline, Stewart's Root Beer Float, ElemintChunk
SIMPLE FLAVORS: Bean Mi (coffee), Cookies 'n Cream, Cotton Candy, Nutalal (nutella), Chocolate Atom, Cookie Dough, French Vanilla, Seasonal Fruit
TOPPINGS: Mini M & M's, Brownies, Cookie Dough, Chocolate Chips, Oreo Cookies, Nutella, Mini Reeses PB cups, Gummi Worms, Gummi Bears, Pop Rocks, Marshmallows, Seasonal Fruit, Pistachio, Almonds, Fruity Pebbles, Cereal of the Month, Lotus Cookies, Sprinkles, Caramel Drizzle, Chocolate Drizzle, Marshmallow Drizzle, Sour Patch Kids Drizzle
CREAMations - SPECIALTY ICE CREAM BLENDS: AB2 (vanilla + birthday cake), Chocolate2 (cookies 'n cream + brownies), Chocolate3 (chocolate cookies 'n cream + brownies), Gramhattan Project (biscoff cookie butter), Buckeye (peanut butter + reese's PB cups), Halvah (pistachio), Closed On Sunday (lemon), Owen Experiment (strawberry + oreo + marshmallow)
MILK SHAKES: Classic French Vanilla, Chocolate, Cookies 'n Cream, Fairy Floss (cotton candy), Bean Mi (coffee), Saturday Morning (french vanilla + cereal of the month), Seasonal Fruit
SEASONAL ROTATING FLAVORS: Pumpkin Custard, Pomegranate, Minty Hot Chocolate (mint ice cream with a cold hot chocolate float), Gingerbread ice cream sandwiches, Pecan Turtle, Butter Beer, Not So Sticky But Toffee Pudding, and many more.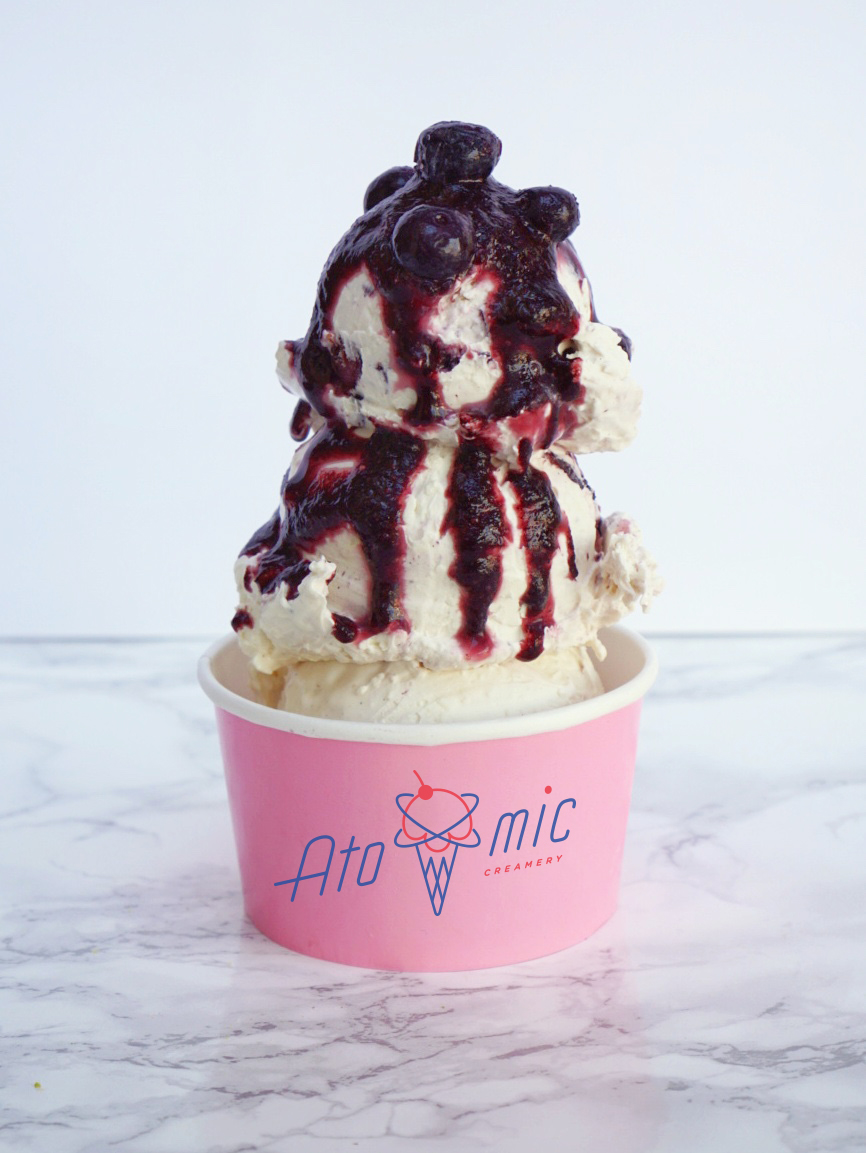 All photos above courtesy of Atomic Creamery
ADDITIONAL INFORMATION
LOCATION
ATOMIC CREAMERY AT FASHION ISLAND
549 NEWPORT CENTER DRIVE
NEWPORT BEACH, CA, 92660
(949) 630-588
Hours of Operation:
DAILY
Monday - Thursday, 10:00 a.m. - 9:00 p.m.
Friday, 10:00 a.m. - 10:00 p.m.
Saturday, 10:00 a.m. - 9:00 p.m.
Sunday, 11:00 a.m. - 8:00 p.m.
Menu Pricing: $
Seating: Indoor & Outdoor Seating
Service: Counter
SAMPLE COVERAGE
…coming soon!





For more information or interview requests please contact
Bobby Navarro at 100inc Agency - Events and Promotions.